Car Hire India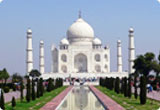 Explore the wealth of historical monuments in Delhi, the beaches in Goa, the serene and picturesque backwaters of Kerela, or the splendid culture of Bengal. Holiday in India and you will surely have a memorable time with family and friends. This land of saints and mystics, culture and tradition, and a spectrum of food and lifestyle habits, is sure to leave you mesmerized.
Renowned sightseeing attractions in India include the Taj Mahal in Agra, the Golden Temple in Amritsar, Red Fort in Delhi, Char Minar in Hyderabad, Gateway of India in Mumbai, Victoria Memorial in Kolkata; and the list goes on. In addition, one can also find a number of national parks and green areas in India, which serve as a habitat for diverse forms of flora and fauna. Great food, great hotels, and warm and hospitable people; all contribute in making your holiday a one of its kind experience.
Hurry and book now with VIP Cars for all your travel needs in India!