Car Rental Eindhoven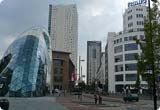 Eindhoven is a small city in North Brabant. It is one of the liveliest cities of Netherlands. You will find some amazing events all year round. GLOW and Dutch Design Week are the best! Head to natural areas scattered around Eindhoven for some fresh air. For a more urban vibe visit different landmarks of the city likeEvoluon and De Admirant and especially churches.The history of Eindhoven revolves around industrial development and Philips. Hence, a glance at the Philips related history is a must and luckily for most visitors the Philips sights are in the heart of the city.For those who enjoy modern art the Van Abbe museum is another attraction that shouldn't be skipped.

While several options are available for commuting in the city, you are advised to rent a car for hassle-free commuting.