Car Rental Rotterdam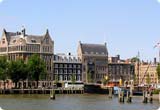 As a tough port city, Rotterdam offers the kind of diversity one does not come across anywhere else. Rotterdam boasts of sophisticated shopping plazas, eccentric night life and unconventional man-made structures dotting the city. The city radiates excitement and it seems as if the city never sleeps. From shopping sprees to fine-dining, museums to the assortment of attractions, everything about the city makes it a strong candidate for you next holiday expedition.

The city offers an endless list of attractions and in order to make the most out of your trip, it is advised that you hire a car from VIP Cars. Renting a car for Rotterdam is easy and can be done online, by just selecting your location and searching the car. You can also call us to book your car!