Car Rental Harvard Square Hotel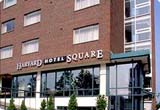 Harvard Square is a triangular shaped area located towards the city center of Cambridge in the US state of Massachusetts. It is known for being the site of Harvard University, which is one of the world's premier and most well known universities. This square serves as cultural as well as commercial center for students of the historic university as well as for the residents of Cambridge.

Harvard Square has a number of attractions in and around it for travelers to see. The Harvard Museum of Natural History is located here and has specimens from the university's large natural history collections. The Harvard Yard is another favorite with travelers who enjoy taking pictures in front of the famous landmarks of Harvard University. One can also visit Longfellow National Historic Site, the African American Heritage Trail and the Washington Elm while visiting Harvard Square.