Autonoleggio Egitto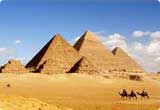 Make our holiday to the Egyptian land an enjoyable experience by traveling in a hired car. Booking of car rental for Egypt online with us is quick, easy and affordable. Multicurrency support offered to assist car booking in any currency you own for instant hiring.

Frequently, Egypt is addressed as the gift of Nile to the World. It is indeed true! From ancient history to modern-day hospitality, the Egyptian land binds together enough reasons for a well spent holiday. There is also scope for businesspersons as well. To travel around its neighborhoods, make sure you rent a car for Egypt well in advance. Online car hire does not only make commuting affordable but also leads you to notable attractions comfortably.

Tourism in Egypt- The Main Highlights!

Choosing this cradle of civilization to be your next holiday destination is not too difficult a decision. There is a legacy worth being explored. The text that follows highlights the many reasons for visiting Egypt, ranging right from pyramids to minarets, architectural marvels to scenic surroundings. However, make sure you have pre-booked car rental for Egypt. It is sure to further enhance your experience.

Egypt houses the most incredible scenic splendors including mountains, coral reef sites, ancient cities, beautiful beaches and monuments like nowhere else. These features have earned it the stature for being a complete holiday destination.

The history buffs can be sure of gala time while discovering the civilizations that have existed here for years in the form of artifacts. These include the Pharaohs, Romans, Greeks, Persians, etc.

Adventure seekers can book a ride to any of the sporting and recreational clubs. Activities such as swimming, snorkeling, etc can be enjoyed here. Travelers could even take part in other interesting activities such as diving, wildlife spotting, etc.

The Benefits of Car Rental in Egypt

At VIP Cars, we give you flexibility to rent cars on the go. You can easily search through our vast inventory to compare and book the best of deals online. The cars provided to you are well-maintained and fully-insured. Drive-away prices are being charged for booking with us, inclusive of standard rental advantages. Collision Damage Waiver (CDW) is offered when you rent a car for Egypt from our suppliers. Thus, in case of accidental damage, no additional charges are levied. To explore the best of Egyptian land, get a car on rent in advance and avail special offers.

For any queries during the course of booking, feel free to connect with our dedicated customer support staff.