Cheap Car Rentals at Kuala Lumpur International Airport (KUL)
To make your airport transfer and trip hassle-free, book your next car rental at Kuala Lumpur Airport with VIPCars. Our booking process is super easy and quick while we deal with the best car rental companies in the market like Keddy, Sixt, Hawk Rent a Car, and Europcar. Our customers enjoy perks like making changes to their car hire booking at any time, choosing from a wide variety of cars, a choice of booking via phone, and adding extra facilities to their Kuala Lumpur Airport car rentals like a GPS system or child seat.
Now, you don't have to search for a taxi or find public transportation while carrying heavy luggage and you can enjoy driving on the good quality highways of Malaysia as Malaysia has the best roads in South Asia. Book your cheap car rental at Kuala Lumpur Airport only with VIPCars.
Car rental companies at Kuala Lumpur International Airport (KUL)
We, at VIPCars, endeavor to provide our users with the services of the best car rental suppliers at Kuala Lumpur Airport
Europcar
Hertz
Sixt
Hawk Rent A Car
Paradise Rent A Car
Steps for booking a cheap car rental for KLIA through VIPCars
Once you are at VIPCars.com, choose your pickup location as Kuala Lumpur Airport and choose a preferred drop-off location. Select date & time for the rental period and mention the age of the driver.
Now, you can compare and choose from the best car rental deals in available for Kuala Lumpur Airport. You can change the currency to any local currency to avoid wastage of time in price conversions. You may set a price-range to view the car rentals suiting your budget. We let you add extras like GPS or child seat top your car rental at an extra amount.
You can add your flight number to the booking so that we keep a track of your flight timing. Finally, confirm the booking by paying a small amount and pay the rest of the amount when you get your car rental at Kuala Lumpur Airport.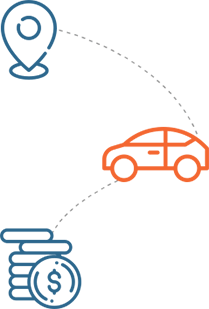 Which Kuala Lumpur Airport car rental to choose?
Choose a small car rental at Kuala Lumpur Airport if you are just a couple or one person while for families, an SUV rental is more suitable. A large group of people calls for a minivan or van rental. Our car rental suppliers at KUL Airport provide all types of cars for hire in Kuala Lumpur so that you can tour the city in style.
Tips for car rental in Malaysia
These are a few important tips or advice to consider while renting a car in Malaysia.
GPS: It is suggested that you use a map or a GPS to navigate the cities of Malaysia.
License: You can drive with an international driving license in Malaysia for up to 90 days while a national driving license is also accepted.
Age: The minimum age for driving in Malaysia is 23 and maximum is 70.
Additional driver: If you have more than one driver for your car rental then all the drivers must be present while collecting the car. Their licenses and details have to be added to the rental form.
Side: Malaysians drive on the left while the steering wheels of their cars are on the right side.
Traffic: Sadly, traffic rules are not strictly followed in Malaysia.
Safety: We recommend you to lock your car rental efficiently while parking such as using a steering lock as a precaution.
Malay: It is advisable to learn a few traffic-related words in Malay before driving in Malaysia.
About Kaula Lumpur Airport
A destination in itself, KUL is the main international airport of Malaysia and one of the major airports in Southeast Asia. It's the busiest and the largest airport of the country offering all the major facilities such as restaurants and shopping outlets as it caters to a huge amount of tourism. Kuala Lumpur International Airport or KLIA has 213 check-in counters and a self check-in service as well.
The terminals of this airport are large with relaxing lounges, children's play areas and duty-free shops. Kuala Lumpur Airport has two buildings: the Main Terminal Building and the Satellite Building. The airport is located 75 kms away from the city center, at Sepang. Awarded as one of the top 5 airports in the world, KLIA represents modern architecture blended with the rich culture of Malaysia.
| | |
| --- | --- |
| Address: | 64000 Sepang, Selangor, Malaysia |
| IATA Code: | KUL |
| ICAO: | WMKK |
Terminal guide for Kuala Lumpur Airport
KLIA Airport comprises of 2 main terminals while the contact terminal is an extension of the main terminal building. A and B are for domestic departures and G and H are for international flights. Most of the operations of the airport are carried out on the contact pier.
At Satellite terminal A, there's an access to a free Wi-Fi and the terminal has prayer rooms, massage rooms & showers. You can shop duty-free as well as from premium boutique brands like Burberry, Harrods, Montblanc, Salvatore Ferragamo, etc. Many restaurants are also available there. Lounge areas like child-play area, movie lounge, etc are also there for the passengers with lounges like Silver Kris lounge, the Cathay Pacific lounge, Emirates lounge, MAS Golden lounge, etc.
An interesting feature at the airport is a natural rain forest that resembles the rain forests of Malaysia while Gateway@klia2 is an integrated shopping area. The transport hub in this area has the car rental desks. There's an 8-floor car parking at the airport as well.
ATMs like Affin bank, CIMB, Hong Leong bank, Maybank & RHB are functional at the airport along with clinics and pharmacies. There's also a post office at the airport.
Going from Kuala Lumpur International Airport to Kuala Lumpur city center
Kuala Lumpur city center is about 53.3 km away from KLIA so by a car rental, it will take around 53 min. Ditch the headache of using public transport or a taxi and book a rental car to travel at your own pace.

Things to do in Kuala Lumpur, Malaysia
Petronas Towers

Batu Caves

Kuala Lumpur Tower

National Mosque of Malaysia
FAQs - Car rental Kaula Lumpur Airport (KUL)
To return your car rental at Kuala Lumpur Airport, look for the signs indicating 'Car Rental', as you approach the airport. As you reach the car park area, return the keys and completed contract to the associate of the supplier.
If you want to make an after-hour return at KUL Airport, you can easily drop the car keys and contract in the 'Drop-Box'.
Make sure to reserve your car rental as early as possible to avail the special discounted price by the supplier. The near you will book to your travel date the more expensive the rentals would get. Make a reservation with VIPCars.com to avail cheapest car rental at Kuala Lumpur Airport.