Compare prices and book a

car hire at Amsterdam Airport
---
Compare Amsterdam Airport car rental deals with latest prices from the Netherlands' renowned car hire brands at VIP Cars. We let you compare the rental rates across a large category of rental cars for Amsterdam Airport.
Not only is this comparison feature free to use at VIP Cars, but also the online booking as well as cancellation, if you choose to cancel you Amsterdam Airport car hire deal 24 hours before the pick up time.
Why choose VIP Cars

to book
a rental car for Amsterdam Airport?
---
Cheap price
Your car hire reservation for Amsterdam Airport from VIP Cars comes with an assurance that you have got an unmatched value for money deal. We explain all the things related to your Amsterdam Airport car hire deal, including the complimentary inclusions that come along, as you go ahead with the process of online car hire reservation.
Our car rental suppliers
Making most of our association with Europe's leading car hire suppliers such as, Ace, Alamo, Enterprise, Europcar, Goldcar, Hertz Car Rental, National, and Sixt, we offer you a large pool of rental vehicle categories to choose from, ranging from mini and compact cars to intermediate sedans and vans, and from SUVs to luxury and convertible cars.
Fast, easy to use & reliable
As you fill in your travel dates, select Amsterdam Airport as your pick-up point, and use filters provided on the sidebar of the website to further refine your results, you come across a list of car hire deals that best serve your traveling requirements. This quick search process is aimed at saving your time, which gets wasted, while you browse multiple websites.
Secured payment
We use an advance encryption technology to keep your confidential details totally secured, almost nullifying the threat of data breach. VIP Cars guarantees a total peace of mind when you do an online transaction with us to book your Amsterdam Airport car rental.
Guide to Amsterdam Airport Schiphol (AMS)
Situated about 19 miles southwest of the Amsterdam city center, Amsterdam Airport is one of the busiest airports of Europe, with nearly 55 million passengers arriving at its terminals every year. Catering to more than 100 air carriers, the airport offers flight connectivity to nearly 300 destinations worldwide.
With VIP Cars on your side, you can make an online reservation well in advance right from the convenience of your home so that you can straightaway grab the keys of your rental car at Amsterdam Airport after your arrival.
| | |
| --- | --- |
| Address: | Evert van de Beekstraat 202, 1118 CP Schiphol, Netherlands |
| IATA Code: | AMS |
Facilities available

at Amsterdam Airport
In addition to being extremely disabled-friendly aviation facility, Amsterdam Airport offers an array of passenger amenities such as general information counters, conference halls, shopping outlets, bars, restaurants, banks, ATMs, currency exchange counters, rest rooms, and free telephone as well as Internet access.
Rotterdam Airport (RTM), located about 35 miles southwest via A4, is the closest airport to Amsterdam Airport.
Shopping at Amsterdam Airport
Whether you're interested in buying a souvenir, a pack of exotic chocolates, or a luxury fashion item, you'll find everything at Amsterdam Airport shops.
Airport Telecom Shop
The shop offers plenty of useful services ranging from phone repair, connectivity devices, and SIM cards, to other mobile accessories.
America Today
The apparel store is famous for its huge collection of casual wear and sportswear targeting the young consumer segment.
Electronics
The hi-tech gadget store features a collection of smartphones, tablets, headphones, and several other compatible electronic products.
Alphega Pharmacy
The pharmacy keeps a huge stock of medicines and other wellness products. They also allow pick-up of medicines after the regular hours.
Burberry
The British high fashion brand is known for its sturdy handbags, designer shoes, and a variety of cashmere sweaters.
Chocolates, Liquor & Tobacco
The store features an extensive collection of alcoholic drinks, Europe's finest chocolate brands, and other tobacco products.
Gassan Watches & Jewelry
The multi-brand retail outlet lets you explore a variety of luxury watches and accessories from Rolex, Omega, and Chopard.
Hugo Boss
The fashion store is renowned for its collection of suits, shirts, leather shoes and accessories, sports coats, and sweaters.
Dining at Amsterdam Airport
Enjoy snacks, sip a cup of your favorite coffee, or indulge in the captivating aroma of classic Dutch-inspired dishes at Amsterdam Airport.
Burger King
The fast-food joint is famous for its hamburgers, crunchy fries, salads, wraps, and a few Netherlands-specific delicacies.
Starbucks
Choose from a massive selection of coffees at Starbucks. The cafe also offers cakes, pastries, and other tasty snacks to choose from.
Pizza Per Tutti!
The eating joint is known for its authentic Italian pizza. Offering various customization options, the place attracts tourists all day long.
Hello Goodbye Bar
A perfect place to enjoy your favorite drink, the Hello Goodbye Bar is an ultimate outlet if you're looking for light snacks and drinks.
Kebaya
A famous restaurant that offers an authentic taste of the Far East, Kebaya lets you choose from twenty-four Asian delicacies.
Cafe Coco
The happening cafe offers a variety of hot and cold drinks, premium chocolate brands, alcoholic drinks, and snacks.
East Bar & Bites
The eating joint is best known for its sushi, wasabi crackers, yakitori, and a variety of drinks to enjoy before you leave.
Tastes from the Lowlands
The restaurant is a popular place to enjoy Dutch cuisine that includes chicken satay, ham and cheese sandwiches, and croquettes.
Lounges at Amsterdam Airport
Equipped with all the latest passenger amenities, lounges at Amsterdam Airport are pleasingly comforting. Depending on the airline that you're traveling on, the lounges let you wait amid welcoming surroundings.
Things to do at Amsterdam Airport
Besides enjoying shopping and dining at Amsterdam Airport, you can expect a great outing as the airport offers the below-mentioned options to spend your layover time.
Visit NEMO Museum
A major attraction located at the Holland Boulevard, the NEMO science museum features interactive games, engaging exhibits, and other working models.
Relax at Airport Park
Located just after crossing the passport controls, the Airport Park is a place full of fresh air. Replete with seating place, the place lets you sit and relax for hours.
Get massage at Back to Life
Located at the ground level, between Piers E & F, therapists at this massage parlor will relieve your bodily stress in a couple of minutes. Prices start from $23.
Have fun at Kids' Forest
Situated on Level 1 of the Holland Boulevard, Kids' Forest is an ultimate adventure space for kids. Full of swings and tree houses, the place guarantees a refreshing time.
Where to find pre-booked rental car
at Amsterdam Airport?
Amsterdam's International Airport doesn't disappoint you either when it comes to finding your pre-booked rental car. Our alliance partners that includes the names of reputed local as well as global car hire brands are present at the airport. Service desks of car rental companies are located at the Schiphol Plaza.
Simply follow the 'Car Rental' signposts at the passenger terminals after you collect your luggage.
Things to cover in Amsterdam with a rental car
Known for its wealth of museums and an eclectic mix of history and modernity, Amsterdam ranks among Europe's leading tourist destinations. Whether you want to enjoy some quiet moments along the beautiful canals or embark on a sightseeing trip, the Dutch capital assures you of an unforgettable welcoming experience. Hiring a rental car from Amsterdam Airport remains the simplest way to explore city and its surrounding areas.
Top attractions in Amsterdam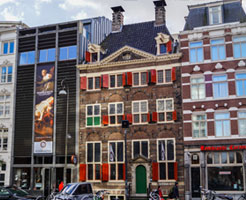 Rembrandt House Museum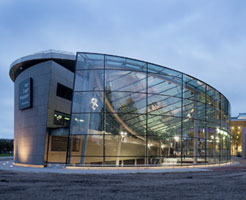 Van Gogh Museum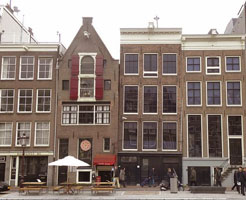 Anne Frank House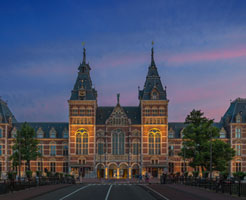 Rijks Museum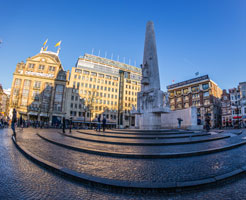 Dam Square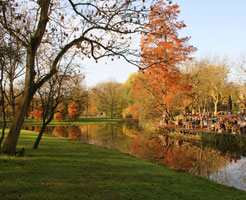 Vondelpark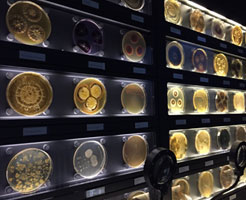 Micropia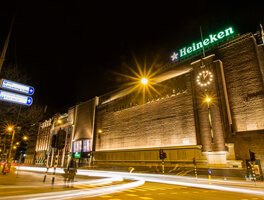 Heineken Experience
Day trips from Amsterdam
Your trip to the Dutch countryside can never be considered as complete if you have missed its captivating windmills, beautiful canals, mouthwatering cheese, and gorgeous tulips. Why not discover the vibrant Dutch landscape in your Amsterdam Airport rental car? Given below are 7 day trip options that you can consider to include in your itinerary.
Amsterdam to Kinderdijk
About 63 miles via A2
---
Famous for: Windmills
Amsterdam to Lisse
About 23 miles via A4
---
Famous for: Tulip fields
Amsterdam to Utrecht
About 33 miles via A1 & A27
---
Famous for: Utrecht University, Shopping District
Amsterdam to Leiden
About 28 miles via A4
---
Famous for: University town
Amsterdam to Gouda
About 50 miles via A2 & A12
---
Famous for: Cheese market
Amsterdam to Rotterdam
About 52 miles via A4
---
Famous for: Rotterdam harbor, Markthal
Other leading European cities near
Amsterdam
Besides exploring the Dutch capital, along with other cities across the Netherlands, you can plan a road trip in your Amsterdam Airport rental car to other important European cities located not too far from Amsterdam.
Belgium
Road trip from Amsterdam to Brussels
Driving Time: Approx. 3 hours
Distance: Located about 130 miles away from the Dutch capital, Brussels is known for its exciting events, classic architecture, delectable cuisine, and headquarters of several renowned international institutions.
Road trip from Amsterdam to Antwerp
Driving Time: Approx. 2.5 hours
Distance: Situated around 104 miles southwest of Amsterdam, Antwerp is one of the leading Belgian cities nestled on the banks of River Scheldt. Home to some of the best preserved historic structures, Antwerp amuses visitors with its wealth of notable buildings.
Germany
Road trip from Amsterdam to Düsseldorf
Driving Time: Approx. 3 hours
Distance: Located about 148 miles southeast of the Netherlands' capital city, Düsseldorf is famous for its globally acclaimed fashion and trade fairs. Ranked at sixth position among the world's most livable city, this North German city boasts of its vibrant nightlife.
Road trip from Amsterdam to Munster
Driving Time: Approx. 3 hours
Distance: Situated about 139 miles east of Amsterdam, Munster remains the undisputed cultural center of Germany's Westphalia region. The city is famed for its iconic botanical garden and the 13th century Cathedral of St. Paul.
France
Road trip from Amsterdam to Lille
Driving Time: Approx. 4 hours
Distance: Located nearly 182 miles southwest of the Dutch capital, Lille is the capital of France's northern region of Hauts-de-France. A paradise for historians, Lille preserves some of the finest art forms of the region, with Flemish architecture dominating city's squares.
Road trip from Amsterdam to Paris
Driving Time: Approx. 6 hours
Distance: Located nearly 327 miles southwest of Amsterdam, the French capital needs no introduction. Whether you're going there for magnificent attractions, trendsetting fashion, or a fun-filled night out, Paris never falls short of its formidable reputation.