Cheap car rental New Zealand (South/North Island)
---
| | |
| --- | --- |
| Under 21 car rental in New Zealand: | Available |
| Multi-island car rental in NZ: | Available |
| Minimum rental period: | 1 day |
Are you looking for a long-term one-way in North Island, a short-term deal for New Zealand's South Island, or is it a multi-island car rental? Conduct a search on VIPCars now, find your deal at the cheapest possible rate from top suppliers like Bargain car rentals and reserve it within a few minutes. With us, you can rent a car online in three easy steps - search, compare and book - as well as through our booking support or live chat feature. For travelers who are wondering 'Should I rent a car in New Zealand?' they can note that
New Zealand is an island country located in the southwestern Pacific Ocean and comprises of spectacular and diverse natural beauty, spiky mountains, pristine trout-filled lakes, beautiful beaches, and active volcanic zones.All of which are located far apart from each other!
So, with so much to cover, a car rental is the best way to cover New Zealand and its many attractions and gems. Experienced travelers have been doing it for years; it is also advised that you should make your car rental booking for NZ in advance for bigger savings; so book today, save big and ensure a great traveling experience in NZ!
VIP Cars Works With the
Best Car Rental Companies
in New Zealand
VIP Cars has tie-ups with some of the best car rental companies in New Zealand. Hence no matter if you are a business traveler looking for a luxury car, an adventurer pinning for an SUV, or a road trip fanatic searching a minivan or a 4x4 for some off-road adventure, with VIPCars you can choose from a variety of vehicle types.
All this variety is because of the following car rental companies that also offer a great network of pickup and drop off locations in NZ, giving you enough to choose from:
Europcar
Hertz
Thrifty
Jucy Rentals
Go Rentals
Ace Rental Cars
VIP Cars New Zealand - How to choose the right car for my trip?
Here are a few tips that can help you decide the right vehicle type for you.
Mini

Fuel Efficient and cheapest to rent, a mini car is best for downtowns or areas where parking is an issue.

Economy

If you are confused whether you should go for a full-sized sedan or a compact vehicle, rent an economy car instead.

Compact

Though its mileage is less than that of an economy car, it is still good, is offered for the similar rates but with extra space.

Standard

As the car size increases, its mileage decreases; same applies here; it is not as economical as the first three categories.

Minivan

A multi-people carrier, it can seat 5 to 9 people and hence comes with even more luggage space and more amenities.

SUV

If you are traveling with equipment for Ski or other gear for some adventure on a beach or a national park, an SUV comes highly recommended.

Luxury

Meant for 6 adults, a luxury car allows a luggage space that can accommodate 4 large and 3 small suitcases or in some cases 3 large & 2 small suitcases.

Convertible

A convertible is best for coastal drives!! Best for a family of 4, a convertible allows a luggage space for about 2 small suitcases only.
Renting a car in New Zealand Requirements
Struggling with questions like 'What do I need to hire a car in New Zealand?', here we are covering some basic essentials that every renter – no matter the nationality – will need to possess to successfully rent a car in New Zealand.
Driver's License
Can I use my US/Australian driver's license in NZ?
Travelers who are visiting NZ for less than a year are allowed to drive on their native DLs, but after that, you will need to procure a license issued by NZ government to keep driving on the country roads.
Your can use your native DL only if it is in English – if it is not, provide an accurate translation – and there should be no disqualification or suspension points.
Also, the renter's driver's license should be as per the vehicle category they are renting. Usually, people renting cars in NZ should go for light vehicles only. No provisional licenses are accepted.
Valid Credit Card
Do I need a credit card to rent a car in NZ?
Most of the suppliers only allow you to rent a car if you have an active credit card. It should be issued in your name, and the signatures on the credit card should match the ones to be received on the rental agreement.
Though credit card is a mandatory document that almost every supplier asks for, if you don't have a credit card, have a word with the supplier about payments through debit cards or cash.
A credit card also comes handy because some companies also provide vehicle insurance extendable to rentals, which is quite helpful in case you don't have auto insurance.
Age Qualification
Minimum age to rent a car in NZ?
The main renter needs to be 21 and above to be able to rent a car in NZ; however this is a generalization as some suppliers allow younger drivers to rent but in that case, a surcharge is obtained from them.
Make sure that you are inputting the right age while filling the search form. This would ensure that the deals that the system shows you are as per the age requirements set by the supplier.
Most Popular Car Hire Pickup & Drop-off locations in New Zealand
New Zealand - which the Lord-of-the-Ring-fanatics call their 'Home to the Middle Earth' - is truly magnificent. Whether it is North Island or South Island, with VIPCars, you can request a pickup almost anywhere in the country; the following are the most popular car rental pickup locations in NZ which are available as both pick-up and drop off locations (the full list of the car rental locations can be accessed on our search form):
One-way Rentals, Cross-Country Travel
and Multi-Island Rentals
With VIPCars, one-way car rental in New Zealand is possible, and they are not just restricted to one Island - you can request the pickup in North Island and can return the car in South Island or vice versa. However, note that, in all these cases, suppliers charge a one-way fee which is added to your final bill.
Our New Zealand car rental suppliers only allow domestic one-way & multi-island rentals, international cross-country travel is not allowed. Even suppliers like Go Rentals which allow their cars to be taken on a ferry, even they don't allow cross-country travel. Ferry charges may apply; read the car rental T&Cs to know more.
'2 Weeks in New Zealand!' - Sample NZ Road Trip Itinerary
Round trip or One-way: It totally depends on your personal preference, but doing a round trip is a better option as it saves you a one-way fee and since it gives you the freedom to take a different route on your way back, presents you a better chance to have a more memorable travel experience! Here is a sample travel itinerary that you can use while planning your 2-week-road-trip in New Zealand.
Day 1 - 2
Things to do in Auckland in 2 days
There is a lot that a traveler can accomplish in a day or 2 in Auckland. Our top 'things to do in Auckland in a day or 2' include a trip to Sky City Tower, Auckland Zoo, Auckland Museum and a leisurely walk in Auckland Domain – it is located right next to the Museum. If you start early the next day, you will also be able to make enough time for both Waitomo Caves and one of the islands of Hauraki Gulf especially Waiheke – the island of wine!
Day 3 - 4
Rotorua
The drive from Auckland to Rotorua takes approximately 2.5 hours; hence start early, so that you can explore Rotorua properly. Start with the Pureora Forest Park which is best for trails and enjoy some quality time at Mitai Maori Village. Spend your second day indulging in mountain biking, zip lining, bungee jumping, Skyline lunge and spend a relaxing evening at Polynesian Spa or at one of its bubbling mud pools.
Day 5
Spend a day in Taupo & then drive to Wellington
Taupo is about an hour's drive from Rotorua. Visit Huka Falls, followed by Orakei Korako Cave and Thermal Park and Maori rock carvings at Mines Bay; keep Lake Taupo for the last. Head towards wellington when done with these, stop for the night at one of the towns like Waiouru – it is 1.5 hr drive from Taupo – and continue your remaining 2hr journey to Wellington in the morning.
Day 6 - 7
Things to Do in Wellington in 2 Day
On the way from Waiouru to Wellington, you can stop at Huntersville; after that, if you feel like you can stop at Turangi – a place approx an hour drive from Huntersville which is great when it comes to rafting, hot springs, and trout fishing. On day 2, explore Wellington Downtown on foot and visit places like Te Papa Tongarewa and Mt Victoria; do try the Weta Cave Workshop Tour if you are the 'Lord of the Rings'-fan.
Day 8 - 9
Wellington to Picton
From Wellington Ferry Vehicle Terminal you can board the ferry for Picton with your car rental; the ferry trip takes around 3.5 hrs. Picton highlights include Marlborough Sounds, Queen Charolette Sound, Edwin Fox and Charolette Track; some not-so-popular but worth-visiting places are Esson Valley, Bob's bay and 2 hr walk in Picton hills or a memorable fishing experience at the Snout Track.
Day 10 - 11
Picton to Nelson & Greymouth
The drive from Picton to Nelson takes about 1h 50 min. Mostly known for its national parks, the area is noted for its many beaches, its great local culture and of course the magical Motueka River Valley. On your way to Greymouth – which is approx 3.5 hr from Nelson – visit the pancake rocks in Paparoa National Park, and discover the regions gold mining history by paying a visit to 'Shantytown'!
Day 12 - 13
Greymouth to Franz Josef Glacier, Fox Glacier, and Wanaka
Drive south on State Highway 6 for your 2.5 hr drive to Franz Josef Glacier which is popular for its town of Hokitika and its annual Wild Food Festival; Treetops Walk is also a great place to visit. Just a small drive north and you reach Fox Glacier; Franz and Fox are two of the most accessible glaciers in the world! Wanaka is a small town with unique attractions like Paradiso Cinemas & the famous Wanaka tree.
Day 14
Wanaka to Queenstown and Milford Sounds
1-hour drive from Wanaka, Queenstown is a great place for adventures; from bungee jumping to jet boating, rafting, horse-trekking and skydiving, you can try a lot while in Queenstown. Milford Sounds is a 4 hr drive from Queenstown; on reaching, start exploring the region with the splendid Lake Wakatipu; follow it with the 'Avenue of the Disappearing Forests'. The Milford Sounds is a 22 km-long fjord full of waterfalls and unique flora-fauna.
Other Noteworthy places that you can include in your itinerary
if you have more time on your hands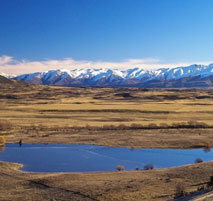 The Mackenzie Country
The Mackenzie Country - its snow-capped jagged peaks as a backdrop to turquoise lakes has been providing the inspiration for numerous postcards.
Aoraki Mount Cook
Aoraki Mount Cook is the country's highest peak. Another region where mountain encounters water with striking effect is Fiordland National Park.
Some Basic Driving Tips for New Zealand
Driving lane

The first thing you should keep in mind while driving in NZ is that you need to drive on the left side of the road. A major change for the travelers who belong to the countries where driving is on the right, so drive carefully!

Pay Heed When Overtaking

In New Zealand, overtaking is permitted on the right. And, since the country's roads have a lot of twists and turns, make sure that you can clearly see ahead and do slow down while overtaking.

Mobile Usage at the time of Driving your Car

Using mobile while driving is an offense in NZ, you will have to park your car somewhere to do so.

Take Extra Care When Driving in Winter Conditions

Snow and ice make roads slippery, so make sure that you have proper snow chains for your travels. You can request it at the time of car rental booking.

Learn How Intersection Works in NZ

In New Zealand, the drivers use roundabouts by driving clockwise. Follow the traffic lights and the lanes correctly, and in case you have taken a wrong turn, don't go for a U-turn, instead find a legal way to change direction.

Gravel Roads and Unsealed Roads

Getting off the beaten track can actually bring you to some horrifically beaten tracks. Some less maintained roads can be uneven so go steady. Look out for animals on the road!

Follow Seat-belt Laws all the time

Though some people might find this a no-brainer, we feel that it is harmless to remind you nonetheless. And, since no one can rule out the fact that while on the road, anything can happen, do wear a seatbelt for your own safety and use proper restraint systems for children and toddlers.

Keep a check on the speed limits

Look out for the speed limit signs on the sides of the roads; these signs usually have a red ring in which the speed limit is written. Also, take a note that in NZ Speed limit is measured in km/hr, therefore, if you are more comfortable with miles/hr, make sure you have a way to convert it.

Check on your fatigue levels while on the roads

The New Zealand roads have a lot of curves and turns which means that reaching a destination may take more time than expected, so keep a check on your fatigue levels, take rest when required, for active driving.

Driving & Drinking

If you are 20 years old or less, Zero tolerance is followed when it comes to mixing drinking and driving. And if you are 20+, you won't face any charges only if your blood alcohol is 250 micrograms per liter of breath.

You Should Know What a One-way on the bridge looks like

This is because, almost every bridge in NZ has a single lane; if the arrow on your side is really bigger, it means that your side of the road gets priority & vice versa.