Autonoleggio Papua Nuova Guinea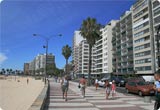 Papua New Guinea is a country located in Oceania that inhabits the eastern half of the island of New Guinea and many offshore islands. Papua New Guinea is one of the most artistically varied countries in the world. The Kokoda Trail is a 60-mile trail, starting in the Port Moresby area and going upinto the Owen Stanley Range. The Highland region is made of long chain of fertile valleys each divided by mountains. The Wahgi River in this area is regarded as one of the best whitewater rafting destinations in the world.

Madang is perfect for scuba diving of all level. The biggest activities for tourists in Papua New Guinea are festivals such as The Sing-Sing performances at the yearly Goroka and Mt. Hagen shows. With so many beautiful landmarks to explore, a car rental service is advisable. Book with us now to get best deals at most competitive prices!