Book a car rental in St. Petersburg, Russia
VIPCars makes renting a car a very comfortable experience as on the website, you can book deals from our supplier partners like Avis Rent a Car and Sixt in Saint Petersburg. Choose from a wide variety of cars and enjoy our many benefits that come with hiring a car in St. Petersburg, like a 24*7 dedicated customer support and an advanced booking form that lets you book a car rental in just a matter of minutes. You can add extras to the booking such as an additional driver, GPS, child seat, etc, to personalise the car rental deal for St. Petersburg.
Visit Saint Petersburg and rent a car to add convenience to your experience by arranging a pickup at the airport itself so that you can drive to the hotel and visit the attractions of Saint Petersburg. A personal vehicle will make your trip much easier and full of fun while freeing you from the hassles of public transport.
Our car rental partners in St. Petersburg
Our tie-up with trustworthy suppliers is another reason to book a car rental for St. Petersburg through our website while can you even compare the different deals from all of our suppliers for this location as well.
Avis Car Rental
Sixt Car Hire
Types of car rental available in St. Petersburg
Compact

Compact cars are cheap, agile and a great companion on bustling roads.

SUV

SUVs are ideal for off road drives, especially for the adventurous ones.

Standard

Spacious sedans for long-distance family drives.

Economy

Value-for-money cars which are of a small or medium size.

Luxury

Premium cars with the utmost comfort and a stylish finish.

Van

Minivans or people carriers are ideal for large groups.
Pickup locations

in St. Petersburg

Pulkovo International Airport (LED)
Pulkovo International Airport (LED) is our main car rental location in St. Petersburg.
Address: Pulkovskoye Shosse, д. 41, лит. ЗИ, St Petersburg, Russia, 196140
Other car rental points in St. Petersburg are St. Petersburg downtown, Saint Pete Beach and Moskovky district.
Visiting the Russian port city: St. Petersburg
A port city on the Baltic Sea, St. Petersburg is one of the most populous cities in Europe and the second largest city in Russia. It's regarded as one of the top destinations in Europe and its grand historic city center is a UNESCO World Heritage Site. The city holds architectural as well as cultural importance along with a great nightlife to offer.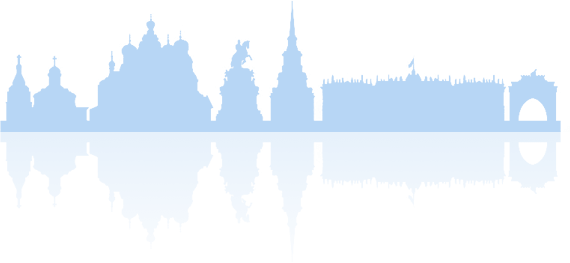 Popular points of interest in St. Petersburg
The world's second largest arts & culture museum, founded by Catherine the Great, houses famous artworks like Judith by Giorgione.

Address: Palace Square, 2, Sankt-Peterburg, Russia, 190000

A museum complex in Peterhof, consisting of a series of sea-front royal palaces and gardens.

Address: Razvodnaya Ulitsa, 2, St Petersburg, Russia

A former residence of Russian emperors with extravagant state rooms and a part of the complex building housing the Hermitage Museum.

Address: Palace Embankment, 32, Sankt-Peterburg, Russia, 190000

A major landmark museum of a site founded by Peter The Great.

Address: St Petersburg, Russia, 197046

Church of the Savior on Blood

An 1880s church with shiny mosaics, forming one of the main sights of St Petersburg, also known as the Church on Spilled Blood.

Address: Griboyedov channel embankment, 2Б, Sankt-Peterburg, Russia, 191186

Also, known as Isaakievskiy Sobor, Saint Isaac's Cathedral is the largest Russian Orthodox cathedral in the city and one of the largest in the world.

Address: St Isaac's Square, 4, Sankt-Peterburg, Russia, 190000
Popular road trips

from Saint Petersburg
Moscow
The capital of Russia
Time: 10 h 3 min
Distance: 712.9 km
Route: E105/M-10
Helsinki
The capital of Finland
Time: 4 h 47 min
Distance: 388.0 km
Route: A-181 and E18