자동차 렌트 콩고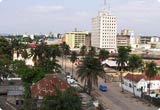 Make sure you travel safe and comfortably in the republic of Congo by pre-booking a rental car. Via our easy to use online space, you can search, select and compare deals from trusted suppliers to reserve the best of car hire services.

Congo, or the Democratic Republic of Congo, is the second largest country on the South African continent and is considered among the most naturally rich nations, due to its vast mineral deposits. N'djili Airport is the main airport serving Congo, and has flights to many cities across Africa, the Middle East and Europe. 

Kinshasa, located on the Congo River, is its main city and capital and houses majority of the landmarks in this republic. The Congo Basin has the world's second largest jungle and it is home to a few notable national parks that can also be visited on a visit here.

Whether you wish to get around cities like Kinshasa, Goma, Lubumbashi, Bukavu or planning to travel somewhere else, a rental car is a must in this country. VIP Cars is an online car rental broker working with top suppliers, thus offering you cheapest deals that are inclusive of taxes, insurances, waivers and other value-added rental advantages.

Tourism in Congo- The Top Highlights!

Earlier known by the name Zaire, Congo is one of the most underestimated African holiday destinations. However, be it the plush business hotels or the massive wildlife reserves, this country has every bit potential for being a World-class holiday destination. Be it their love for mayonnaise or admiration for music; the lifestyle of locals here is lively. Here are the top highlights!

Music is the most valuable asset Congo has given to the World. Some of the best musicians of all times including Wendo, Kolosoy (the father of Rumba) belong to Congo. It is always a wise choice to book car rental for Congo and explore different regions around.

Expect to Taste the Best of Mayo Here!

Though there is along line-up of Indian and Lebanese restaurants here but, the country is equally famous for the inclination of its residents towards Mayonnaise. People here prefer Mayo with almost everything; a heritage that has been carried forward from Colonial period.

Exploring the Exceptional Wildlife

Continuous civil wars might have affected animal population in Congo but, there are many endangered species existing here. These are Okapi, a rare species of Zebra, elephants, leopards and Mbuti pygmies to name the eminent animals that are found here. The most popular animal habitat is Okapi Wildlife Reserve established in 1992. If you have done online car hire for Congo in advance then these places can be easily visited.

Online Car Hire for Commuting in Congo

Commuting in Congo can turn into a safe, hassle-free experience in a rental car. Reserving a car online with us does not only entitle you to a series of benefits but also it is an assurance of excellent service quality. Available for direct pick-up, the cars can be booked instantly by paying in the currency of your choice. When booked with us, the car is available well on time and can be dropped at a location similar to or different from pick-up. Feel free to place advance booking!