Autoverhuur Paso Canoas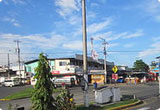 Paso Canoas is a city shared by Costa Rica and Panama and it usually forms the border when crossing over to either of the countries. This important border is lined with a customs counter, a few ATMs, restaurants and hotels. Every traveler is required to have their passport handy before they cross this border of Paso Canoas. A proof of 500 USD and an onward ticket out of the country is also advised for a safe transition. Rent a car from this border to view Costa Rica and Panama's enchanting coastal cities which also allows you to make the most of your time in both these cities.

Car rental Paso Canoas

Being the border between two cities, car rental in Paso Canoas is the most economical and convenient way of getting your way around through this Costa Rican city. VIP Cars allows you to choose the best of everything related to a car rental in Paso Canoas. Browse through our amazing car rental deals, enormous array of cars and suppliers before you go ahead with your car reservation. Grab your car rental deal today!