Autoverhuur Quepos Centrum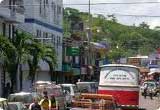 Quepos Downtown located in the city of Quepos, which takes its name from the indigenous tribes that inhabited the area during the Spanish conquest, is one of the most popular tourist destinations in Costa Rica. Quepos Downtown is home to one of the busiest ports in the country and will enchant you with delicious varieties of bananas which are considered to be the local delicacy. Quepos Downtown will also charm you with local shops staffed with indigenous handicrafts and welcoming shopkeepers. Despite the tourism industry exploding, this downtown has a homely feel and welcoming experience ready to enchant even the most seasoned traveler.
You can travel around Quepos Downtown and the surrounding areas by booking your car rental online with us. A rental car at Quepos Downtown means easy access to the downtown as well as other areas of the city. Book your car now!