Autoverhuur Curacao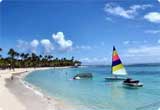 Explore the scenic surroundings of Curacao in rental car pre-booked with us. Search, select and compare exclusive offers to book the best deals. The cars can be instantly hired by paying in any currency you own.

Experiencing the Best of Curacao

Located in the Caribbean Sea, Curacao along with the smaller uninhabited island of Klein Curaçao forms a constituent country of the Kingdom of Netherlands. Its economy is mainly based around oil refining and tourism giving it one of the highest standards of living in the Caribbean. Hato International Airport is the main airfield here.

This Island offers various things to do such as visiting local museums, snorkeling, sun bathing or enjoying delicious cuisines in one of its water front eateries. By pre-booking a car rental for Curacao, you can plan your stay as per your convenience. Willemstad is the capital city and the most visited location. On a voyage here, travelers can visit the historical forts, 'floating market' and the 'floating village'. The beaches such as Playa Kalki, Playa Grote Kenapa, Kontiki Beach and Hook's Hut are pleasant and warm, and offer excellent opportunities for scuba diving and snorkeling.

A Tourist Guide on Curacao

Notable Attractions- Christoffel National Park, Museum Kura Hulanda, Shete Boka National Park, Curacao Museum, Queen Emma Bridge, Fort Amsterdam, Miami Building, D'Art Gallery, Curacao Sea Aquarium, Jewish Cultural-Historical Museum.

Beaches- Playa Kalki, Grote Kenapa, Playa Jeremi, Playa Lagun, Habitat Beach, Kontiki Beach, Cas Abao, Playa Porto Mari, Pirate Bay, Playa Kleine Kenapa and Playa Jeremi are the eminent beaches here.

Restaurants- Mundo Baizzarro, Sombrero, Plein Café, Jaanchie's, Museum Restaurant, Playa Forti, Bitsro le Clochard, La Pergola, Kasbanini, Old Dutch Café, Sculpture Garden Restaurant and Oceans Restaurant are the most frequently visited restaurants.

Shopping- There are many random shops and markets in Curacao wherefrom shopaholics can make the best buy. The notable ones are Fort Riffart, Floating Market, Bruna Bookstore and Zuikertuin Mall. Willemstad is one of the most preferred shopping centers.

Accommodation- Andrews Lodge Curacao, Amber Apartments, Amalia Vacation Apartments, Baoase Luxury Resort, Hilton Curacao, Scuba Lodge & Suites, Kura Hulanda Lodge & Beach Club and The Ritz Studios are some of the many easily accessible accommodation options here.

Booking Rental Car for Curacao- Why Choose Us?

Renting a car for Curacao makes traveling an all the more pleasurable and safe experience as our suppliers provide you with fully-insured well-maintained cars. Tagged at low tariffs, the cars are available for direct pick-up from any chosen location. Simply fill-in requisite details to pick the car from one location and drop it back at another one depending upon your travel plan.

Find the most economical car rental solutions for Curacao online with us and make the most of our comprehensive services.