Car Hire Port-au-prince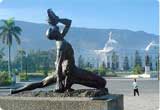 Capital of the Republic of Haiti, Port-au-prince is one of the largest cities of the Caribbean. Situated on the Gulf of Gonave, the city boasts of a natural harbor, which plays a major role in strengthening regional economy. A prominent tourist hotspot, Port-au-prince is dotted with number of mid to large sized markets, where one can buy variety of merchandise. Besides shopping plazas, the city is known for other worth seeing attractions such as, Haiti National Museum, Cathedral of Port-au-prince, and Hotel Oloffson, a 19th century mansion and private residence of two former Haitian presidents. Toussaint Louverture International Airport, located about 7 miles away from the city centre, is the nearest aerodrome facility to Port-au-prince.

Book a value for money Port-au-prince car rental deal from VIP Cars now!