Car Hire Fort De France Airport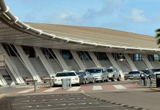 The Fort De France Airport on the Caribbean island of Martinique was renamed as Martinique Aime Cesaire International Airport in 2007. It was named after the author and politician Aime Cesaire. It is situated in Le Lemantin, a suburb of Fort de France. Passenger facilities at the airport include a pharmacy, vaccination bureau, tobacco shop, bank, money exchange counter, duty free shops, a hairdresser, florist, cafes, restaurants and bars.

There are two hotels in the immediate vicinity of Fort De France Airport. Airlines that operate passenger flights in to and out of Fort De France Airport include Air Antilles Express, Air Canada, Air Caraibes, Air France, American Airlines, Corsair International, Cubana de Aviacion and may more. You can arrange to collect your rented car direct from Fort De France Airport, with no additional airport fees, with VIP Cars.