Car Hire Nelson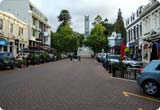 Shop at Trafalgar Street, or get a real glimpse of culture at the Nelson Arts Festival, that is Nelson for you; a city in New Zealand that has something for every visitor. Majority of the sightseeing attractions in Nelson have been built in Victorian architecture. Among all the buildings, the tallest one is the Rutherford Hotel. Located in Trafalgar Square, the hotel has great accommodation on offer for guests.
The Nelson Provincial Museum and the World of Wearable Art are two places that fancy the interest of art and history enthusiasts. One can explore multi-faceted exhibits and artifacts here. Natureland Zoological Park is very popular among little kids; you could easily plan to spend a day there with your children.
VIP Cars tries to ensure that you face no hassles as you embark on your quest of exploring Nelson. So hurry and rent a car from us now!