Car Hire Queenstown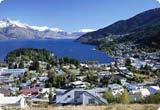 Queenstown in New Zealand is the ideal holiday destination for people who love natural sights such as mountains, water bodies, and glaciers. Situated in the Otago region, Queenstown is renowned for having a strong foothold in adventure tourism. You can enjoy snow sports here like never before, and carry wonderful memories of your trip back home.
Once you have enjoyed your day of snow skiing and nature-watching, you could head to nearby Arrowtown for food and leisure. Here, you will find an impressive array of hotels, bars, and restaurants. You could also plan a day trip to the vineyards located in the region. The Jazz Festival held in the month of October every year is a major attraction of Queenstown. For transport and connectivity, you do not have to worry as Queenstown International Airport is situated within 10 kilometers from the town.
Hurry and book a car rental for Queenstown through VIP Cars now!