Car Hire Rotorua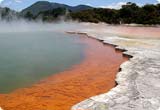 Rotorua is a popular tourist resort situated in New Zealand. To make it easy for travelers to plan their trip, VIP Cars provides budget car hire solutions for Rotorua. You can explore all the attractions in and around the region at a leisurely pace, without any stress or tension. We have an SSL-secured booking engine for Rotorua car rentals. In case of any queries or issues, you can call our customer helpline that is functional round the clock.
For visitors coming to Rotorua, the main attraction is the collection of 17 lakes also known as the Lakes of Rotorua. You can enjoy water activities such as fishing and swimming here. Rotorua is also famous as a spa resort. Besides, one can find a lot of geothermal activity going on here. Hot water springs and geysers are quite common.
Hurry and get in touch with us now to book your Rotorua car rental!