Car Rental Aruba International Airport [AUA]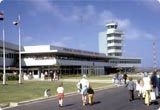 Aruba is a small island country nestled in the southern Caribbean specifically north of Venezuela's coast. The Aruba Intl Airport is known as Reina Beatrix International Airport and it hosts daily flights across Venezuela, USA and other South American destinations. Aruba Intl airport is a bustling hub of mostly tourists and locals enjoying the Caribbean.

In order to get around the top places within Aruba, a car rental is very much recommended. You can easily and quickly book online at VIPcars.com and avail of an all-inclusive pricing package.

Top most popular sightseeing places in Aruba are Bushiribban Gold Mill, you can climb up the ruins and have a scenic view of the coast and Conchi Natural Pool, a natural rock formation jutting out into the ocean a very unique and lovely place to spend the afternoon.