Compare best car rental deals for Bahrain on VIP Cars
---
| | |
| --- | --- |
| Minimum age to rent a car: | 20-25 |
| Rent-a-car locations in Bahrain: | 50+ |
| Minimum rental period: | 1 day |
Looking for a luxury car rental in Bahrain or an economy? Find the most suitable rental car on VIP Cars to make your trip to Bahrain a hassle-free experience. At VIP Cars, we provide you with a diverse selection of cars from the trusted suppliers, both local and global. Travelers can book with us in advance and avail special deals and seasonal offers.
VIP Cars makes renting cars a really easy experience; you can find the perfect rent-a-car within minutes & all you have to do is follow our 3-step reservation process – search compare & book. Not just luxury and economy cars, our suppliers also offer cars like minis and minivans, so no matter whether you are traveling alone for business or with a big group of friends for vacation, with us you can find what you need.
Car rental tips for Bahrain
Place an early booking: Placing advance booking is always beneficial as you can choose from various deals to zero-in on the most economical offers.

Read into Insurance plans carefully: It is suggested to read into rental plans carefully so as not to feel betrayed later on.

Know your requirements: Make sure you book car rental for Bahrain by getting an overview of the number of passengers, suitable car model, supplier, etc.

Mandatory documents: Driver's license, credit card and the passport or some other identity proof are important, without these, the supplier will not allow you to pick the car.
Car rental companies we work with in Bahrain
VIP Cars work with some of the finest car hire agencies in Bahrain – they have their offices almost at every location within the country. However, the most popular car rental pick up location is definitely Bahrain airport which is the biggest and busiest in the country. Other popular city & airport locations within the country and neighboring countries are also covered – our supplier partners have a global presence; this allows us to offer options like one-way and cross-border.
The following are our car hire partner companies in Bahrain:
Avis
Europcar
Budget Rent A Car
National Car Rental
Sixt Rent A Car
Plan your trip to the pearl of
Arabian Gulf 'Bahrain' with a rental car!
Located close by the western shores of Persian Gulf, Bahrain is a small island country known for its authenticity World over. Bahrain pearling trail and Qal'at al-Bahrain were announced UNESCO World Heritage Sites in 2005 and 2012. Few of the renowned historical tourist attractions in the country are Arad fort, Al Khamis Mosque, A'ali Burial Mounds, Barbar temple and Saar temple. Scuba diving, bird watching and horse riding are popular tourist activities in Bahrain. Its major annual event is Bahrain Grand Prix F1 race that takes place in April at Bahrain International Circuit. Several tourists from close by, Saudi Arabia and throughout the region visit Manama generally for the shopping malls in capital Manama. With so much to see, a rental car is what you need to explore freely. Find economical car rental deals for Bahrain, place advance booking with us and make the most of your stay here. We have exclusive deals on offer for one and all.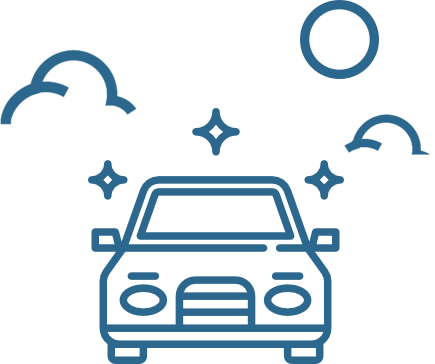 Places to Visit in Bahrain in the convenience of a rental car
Bahrain National Museum, Beit al-Quran, and La Fontaine Center of Contemporary Art are the most commonly visited museums here. Of these, National Museum tops the list of popular tourist attractions:
Visiting Mezzaluna

Travelers in search of World-class cuisines must visit this high ceiling restaurant.Having a stylish Bahrini courtyard, this place is exceptionally well-structured and serves delicious food. The wine list will impress you to the core. Do reserve your table in advance!

Al-Fatih Mosque

Those visitors willing to learn more about Islam must not miss it. It has a finely structured interior décor that is regal and unique. There is a small library and prayer hall. On a visit here, you will be amazed by this place's grandeur.

Bab al- Bahrain

Rare species of North Africa and Middle East can be found in this conservation area that is spread over an area of 10 Sq Km. It lies to the Southwest of Island.

Coral Bay

Jet skiing, waterskiing, diving, boat charters are some of the eminent activities you can take part in. There even exists a beautiful beach that houses Karma Lounge and Rayes restaurant.

Al-Areen Wildlife Park & Reserve

Originally built in 1945, the bab 'gateway' was rebuilt in 1986. There is a small square in front of it. This building is now used by the Tourist Department.
Popular one-way & cross-border trips from Bahrain
Though the option of domestic one-way is offered by all the suppliers, availability of international one-way or cross-country option varies from supplier to supplier and hence needs to be confirmed with the supplier before making the booking. If you want a cross-border car hire from Bahrain, read the deal-specific T&Cs or give us a call and we will help you find the deal you are looking for.
The following are some of the cross-border car rental trips most popular with the tourists:
Car rental from Bahrain to Riyadh
Distance: 481.0 km
Route 40
Car rental from Bahrain to Saudi Arabia
Distance: 676.6 km
Route 40
Popular car rental locations in Bahrain
In case you want to return your car rental at a location different than the pickup location, the following are the locations available with our supplier that you can request as pick up or drop off:
Almoayed Tower
Bahrain Intl Airport
Gulf Hotel
Isa Town
Manama
Manama Juffair
Riffa
Bahrain Commercial Complex
Frequently asked questions
How old do you have to be to rent a car in Bahrain?

To rent a car in Bahrain, the renter needs to be at least 25 years, but this is not the case with all the suppliers. Some suppliers even allow drivers under the age of 25 to rent cars in Bahrain but they charge a fee for that and this fee varies from supplier to supplier. Note that renters under the age of 25 might not be allowed to rent cars falling in luxury segment.

How much does it cost to rent a car in Bahrain?

The cost of the rental car depends on a lot of factors. First of all it depends on the car category you are renting; compact and economy cars are the cheapest to rent while luxury and bigger cars are comparatively expensive. Secondly it depends on the duration of the rental; if you are renting for a long trip and that too in advance, you will be able to get a fair deal; whereas if you are renting at the short notice, rates will be relatively higher. Lastly it depends on the time when you are planning to rent, in high season rates are usually higher, that's why one should rent cars in off-season and in advance.

Note that the cost of the rental can vary from supplier to supplier. (Note: Young drivers pay a surcharge and travelers renting a one-way pay extra fee for the service.)

Can I rent a car with a debit card in Bahrain?

Most probably no, majority of rental companies only permit credit cards as the way of payment. Read the terms and conditions to know about the payment policy the supplier is following.

Can I drive in Bahrain with UAE driving license?

Yes, you can drive in Bahrain no matter whether you are a resident of the UAE or an American or Chinese, just make sure that your driver's license is valid and full; temporary licenses are usually not accepted by the rental companies. Read the deal-specific T&Cs for more information; in case international driving permit is mentioned on the rental voucher, make sure that you have it for a successful pickup.