Car Rental Botswana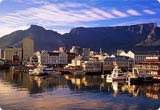 Make your trip to the African Safari destination a worthwhile experience by pre-booking car rental for Botswana online with us. We provide you with the most affordable car hire services for a comfy ride around.

With nearly one-fifth of the country constituting wildlife parks, Botswana is a lively holiday destination. Botswana is a landlocked country situated in Southern Africa and is famous for its wildlife areas like Moremi National Park, Chobe National Park and the Central Kalahari Game Reserve. Visitors can take safaris and stay in lodges.

Amongst southern Africa's most notable and popular wildlife destinations is the Okavange Delta. The bleak salt pans of Makgadikadi Pans National Park appeal a huge number and variety of birds throughout the year. The villages of Xai-Xai and D'Kar have various offerings including arts and crafts. Tsodilo Hills has one of the biggest collections of rock art on the continent.Northern Tuli Game Reserve is a unique corner of Africa where nature and culture mix in outstanding wildlife, enthralling history, and spectacular scenery.

Places to Visit in Botswana

Chobe National Park- It is one of the best African parks to admire wildlife. It became the first National Park of the country in 1968 and is known for its massive population of elephants. Stretching over an area of nearly 11,000sq km, the park is sometimes referred as a small country. It is an epicenter of Bolivian Safari industry.

Tsodilo Hills- Listed in the UNESCO World Heritage List, the hills are a sight of immense spiritual importance. Today, these hills are a national monument and no entry fee is charged. The best time to be here ranges from the month of April to October. Summers can be really hot to handle.

Tuli Game Reserve- It is often addressed as one of the best kept hidden treasures of Botswana. Two landmark sites that are part of it are Solomon's Wall and Motloutse Ruins. The latter one is a Zimbabwe-era village located close by the wall. History buffs may find this place an interesting must-visit.

Okavango Delta- It is a unique geographical formation that is formed as a result of the flow of river Okavango into Kalahari Desert (it does not fall in the ocean). A part of this delta is also referred to as Moremi National Park. It's worth a visit!

D'Kar- To the north of Ghanzi, this small village is a really interesting tourist attraction. It is run under the auspice of Kuru Family of Organization, which is a group of NGOs.

If you have booked a car rental for Botswana then the other places of interest can also be visited conveniently. These include Maun, Gaborone, Francistown, Moremi Game Reserve, Tswapong Hills and Khama Rhino Sanctuary amongst others.

Why Hire a Car for Botswana?

Rent a car for Botswana online with us and save on our exclusive offers. At VIP Cars, we provide you with a trusted platform where you can find the car of your choice by paying in any currency you own. Simply fill in the form, search for car of your choice, compare deals and place booking. Booking with us is quick, easy and affordable. If there is a change of plan then you can manage details online on your own. No amendment fee is being levied in such cases. Even if booking is cancelled 24-hour before pick-up then no cancellation charges are involved.

Advance booking of car rental for Botswana online with us is money saving and convenient. Book now!