Car Rental Curacao Downtown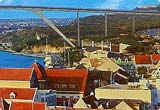 Where pristine blue waters wash the golden sand, and plenty of outdoor games await you, Curacao Downtown is a paradise on earth. While seaside resorts, restaurants, hotel accommodations, bars, and nightclubs are coon to any famous downtown, a string of outdoor activities like, snorkeling, scuba diving, surfing, rafting, and fishing, are exclusive to Curacao Downtown. With so many beaches to be explored, a rental car is one of the most sought after commuting mediums for business as well as leisure travelers. All you need to do is follow three simple steps to book a suitable commuting deal from VIP Cars.

Hurry! An early bird special offer is for few initial Curacao Downtown car rental reservations!