Car Rental Vejle Downtown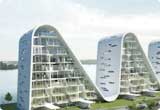 Vejle Downtown lies at the heart of the Vejle City in Denmark. The bustling city center is famous for its harbor shopping and museums. Among the most famous cultural centers in the metropolis is the Vejle Museum of Art that showcases the collection of Worzner and several COBRA works. On the other hand, Vejle Downtown is home to the St. Nicolai Church which houses one of Denmark's infamous bog bodies.
The Vejle Downtown is also nearby the iconic Vejle windmills. In fact, a few minutes' drive from the city center leads tourists to cliffs of the Sondermarken where the windmills are located. The cliff offers a breathtaking panoramic view of the city.

Exploring Vejle Downtown is best done if tourists hire cars from VIPcars.com. At VIP Cars, we are a leading car rental service provider and offer an easy online booking process. Booking from us makes exploring the many sites in Vejle Downtown more affordable.