Car Hire Djibouti Airport (JIB)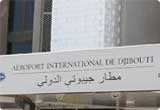 Djibouti Airport is an international hub that serves flight between Djibouti and neighboring countries like: Ethiopia, Madagascar, Tanzania, Egypt, Somalia, Yemen, Oman and a whole lot more. Djibouti Airport is likewise known as Djibouti-Ambouli International Airport or JIB.
Once you arrive at Djibouti Airport, you can head to your hotel to freshen up then drive down to Lac Assal area. Even before reaching the place you will be greeted by impressive views like the Devil's Island which makes your driving worthwhile.

When you are in Djibouti, you should never miss the local cuisine for some gastronomic sampling. It is a delicious mix of French, Yemeni, Somalian and even Indian influence.

When arriving at Djibouti Airport, we recommend booking a car rental online for your stay in the city. As a leading car rental service provider, VIP cars is proud to offer you a low price deals all inclusive of airport fee, unlimited mileage and more.