Car Hire Djibouti Downtown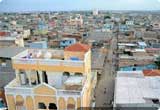 Djibouti Downtown is bustling business district owing to its strategic location near the Indian Ocean and the Red Sea. It is a renowned transshipment port and thus the Djibouti Downtown area is filled to the brim with business infrastructures and offices.
So, when touring Djibouti Downtown, the best recommendation we can give you is to look for local Djibouti restaurants and sample the many and varied local cuisines. Do this conveniently with a low priced rental from VIP Cars. Book quickly and easily online at VIPcars.com.

Local dishes are prepared with the use of Middle Eastern spices. We recommend SoupeDjiboutienne or Fah-fah which is a spicy boiled beef. Another is the yetakelt wet which is a again a spicy dish of vegetable stew.
However, if you want to try local delicacies that may be considered out of this world then head out to the Melting pot and try some camel steak to the ordinary fish, sushi and lobster.