Car Rental Comalapa International . Airport [SAL]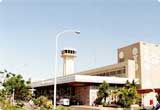 Also known as the El Salvador International Airport, the Comalapa Intl. Airport is located 50kms from the capital city of San Salvador. Considered as the busiest airport in the country, this particular airport has received more than 2 million passengers in 2008.
The airport is equipped with modern facilities which include duty-free shops, international fast foods and restaurants, bars, tourist facilities, car rental brokers and wide Wi-Fi ready waiting rooms. Moreover, the airport also has an observation deck on its third floor where visitors can view departures and landings.

Hiring cars from VIPcars.com to pick you up at Comalapa Intl. Airport is the best way to get to your destination. Here at VIP Cars, we provide extensive choices of fleets from mini vans, sedans, SUVs and sports care to choose from. We offer all inclusive pricing packages which include airport fee, road taxes and unlimited mileage thus getting to your destination is more affordable and convenient.