Car Rental Hilton Princess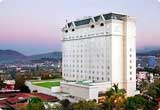 A lovely hotel in San Salvador City in El Salvador, Hilton Princess is situated right at the heart of the business district of the city. The hotel is considered as one of the posh hotels in the city and is frequented by tourists who are looking for world class accommodation in El Salvador.
The Hilton Princess hotel is complete with convenient facilities which include an outdoor pool, fitness gym and a spa area. There are also three dining rooms in the hotel where tourists can sample local and international delicacies. Moreover, the hotel is also nearby the many tourist attractions in the city such as the Guadalupe Basilica, La Laguna Botanical Gardens and the El Salvador Zoo to name a few.

Getting to all these attractions can easily be done if tourists hire cars from VIPcars.com. At VIP Cars, we are associated with reliable rental car providers in San Salvador.