Cheap Car Rental in France from VIPCars
---
| | |
| --- | --- |
| Minimum age to rent a car in France: | 21years |
| Mode of payment: | Credit card |
Find really cheap car rental deals for France at popular locations such as Paris Orly Airport (ORY) and Paris Charles de Gaulle Airport (CDG), provided through brands like Alamo Rent a Car, Sixt, and Europcar. Our services are available in all the top cities of France such as Nice, Bordeaux & Versailles and you can get car rentals at discounted rates on our car rental booking portal, VIPCars.com. Renting a car is considered one of the best ways to tour the beautiful country as it ensures a lot of freedom which is missing in public transportation.
Many times, we miss having a car at a travel destination, this is the time when all you require is a car rental.
Top Car Rental Companies in France
Alamo Rent a Car
Sixt rent a car
Europcar
Enterprise Rent A Car
Firefly Car Rental
National Car Rental
Car Rental Types in France
Compact car rentals

When you need just the perfect-sized vehicle to drive in the French cities such as Versailles & Grenoble, infamous for traffic jams, then compact is the category of cars to go for. Compact cars are spacious and comfortable for a small group of people as well as agile on the road. These are apt for the busy cities of France as well as cross-city travel.

Mini car rentals

The smallest type of cars come under this category, apt for the busy cities of France, especially when it comes to car parking in cities like Paris where parking is a big problem. Mini cars are ideal for a total of one or two passengers with not much of luggage. Mini is the most popular car rental category in many cities of France such as Lille.

Standard rentals

Apt for families, these are sedans or mid-size vehicles with seating for up to 5 passengers and enough luggage room. Sedans are perfect for long routes and road trips in France.

Economy car rentals

One of the smaller car categories, agile but there is no compromise in space. It is advisable to go for smaller cars on the congested streets of cities like Paris. Choose an economy vehicle for up to 4 passengers and a small amount of luggage.

Convertible car rentals

Experience the drive of your dreams in a sports or convertible car which usually has a very high quality engine. These cars are perfect for locations with a pleasant climate such as the coastal drives at French Riviera. But these cars are not suitable if you want to carry a lot of luggage, these are suitable for only one or two passengers.

SUV rentals

Drive to the French country or the French Alps with your travel buddies in a spacious car like Ford Kuga, Volvo XC40 or BMW X5. These are luxurious cars, not much apt for busy areas but perfect for the country or mountains.

Van or minivan rentals

Rent a 5, 7 or 9 seater van or minivan if space is all that you need but avoid big cars in the congested parts of France as the traffic and narrow streets will make your experience unpleasant. Plus, parking is a concern in crowded parts of this country. A van caters to ample seating without much of luggage space.

Full-size rentals

Rent a full-size car in the less crowded parts of France for optimum space for the whole family or groups. These cars are better for travelling long distances and are well-equipped with luxury and comfort.

Luxury car rentals

Go for a luxurious car from the premium or sports category for comfort in all aspects including size and are loaded with features, often known as the dream cars. Renting a luxury car for a road trip in France is a good idea.
Some advice for renting a car in France
A car rental is one of the most comfortable means to tour France and driving around is pretty easy in this country. Also, renting a car will give you the freedom to tour France, just like your own car would but one should choose a car suiting his needs such as choosing the transmission you can drive more comfortably. It will be wise to consider add on facilities like snow tires if heading to the Alps and the like. Hitchhiking is a very common practice in France, with its advantages and disadvantages.
Inclusions with a car hire in France
Rent a car in France through us to the following inclusions and much more with every car rental booking!
Unlimited mileage
Collision damage waiver
Young driver
Taxes
Road tax
Vehicle license fee
Extras you can add to your France car rental
Add extra add-ons like the following for free or at an extra cost to your France car rental booking made at VIPCars.com.
Navigation system- Adding a GPS to your car rental in France will make navigation easier.
Child booster seat- Add a child booster seat for your children between the ages of 4-12 years as it is a must-have when travelling in France as the law says that children up to 10 years must use restraint while travelling by car.
Toddler seat- With VIPCars, you have the possibility of adding an extra toddler seat if you are travelling with a child weighing 9-18 kg as a toddler seat is mandatory for his safety.
Snow chains- Add snow chains to your car rental in France as these are compulsory in many parts of the country.
Our popular car rental locations in France
Paris
Nice Airport (NCE)
Geneva Airport (GGV)
Paris Orly Airport (ORY)
Marseille Airport (MRS)
Bordeaux Airport (BOD)
Toulouse Airport (TLS)
Nantes Airport (NTE)
Biarritz Airport (BIQ)
Bergerac Airport (EGC)
Nice Downtown
Limoges Airport (LIG)
Lyon Part Dieu Station
Calais Ferry Terminal
Strasbourg Train Station
Paris Charles de Gaulle Airport (CDG)
Carcassonne Airport (CCF)
Paris Gare du Nord Railway Station
About France
Officially known as the French Republic, France is a country on the list of every traveller since forever! The country is known for its great food, gorgeous landscapes, classy shopping, historical art, iconic architecture and an important history. Disneyland Paris is the most sought-after attraction of the whole continent. France is a country that offers something for each one, starting from its elite neighbourhoods in Paris to the coast of the French Riviera. Enjoy the snow on the French Alps or admire the palaces of the Loire Valley, being just a few of the surplus of attractions France has to offer.
France, divided into 13 administrative regions, comprises of 9 popular cities amongst those, Paris is known to be the city of romance while Bordeaux is the city of wine. Nantes is the greenest city and Toulouse is the "pink city". France offers a myriad of beautiful landscapes all throughout. The open-air markets in France will get you the best food and the French take pride in the quality of their produce. You can enjoy a cheap meal at a small restaurant or a large brasserie or go for formules.
A short travel guide to France
Most of the attractions of France are located in its capital city, Paris. You can also go for wine-tasting tours or attend events like Tour de France & Worldwide Festival while you are in this European country. Do not forget to gorge on the amazing French food which has been designated as a 'world intangible heritage' by UNESCO, you can shop conveniently at any supermarket.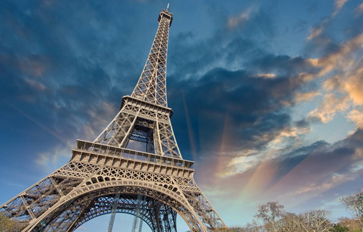 Eiffel Tower
A landmark tower in Paris, built by Gustave Eiffel.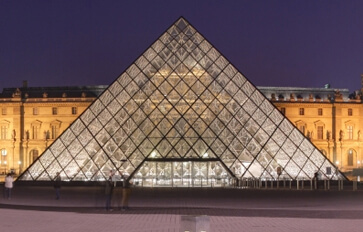 The Louvre
It is the world's largest art museum and an iconic historical monument in Paris.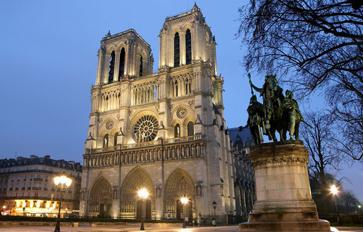 Notre-Dame de Paris
A famous towering cathedral in Paris, Notre-Dame de Paris is a historical landmark.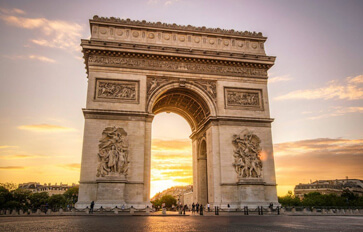 Arc de Triomphe
Built between 1806 and 1836, Arc de Triomphe offers a panoramic view.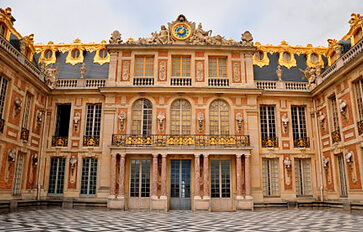 Palace of Versailles
Louis XIV's large gilded palace in Versailles, dates to 1682 and has around 700 rooms.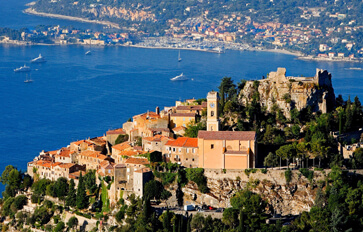 French Riviera
The Mediterranean coast of France, also known as Côte d'Azur.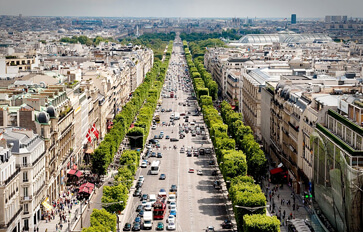 Champs-Élysées
An elaborate and grand shopping avenue, Champs-Élysées is located in the 8th arrondissement of Paris.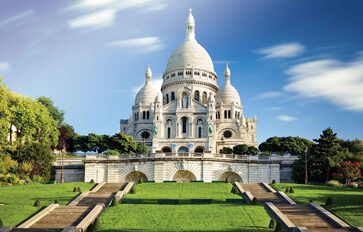 Sacré-Cœur
A hilltop basilica of the Sacred Heart of Paris, Sacré-Cœur is amongst the most iconic buildings in the city.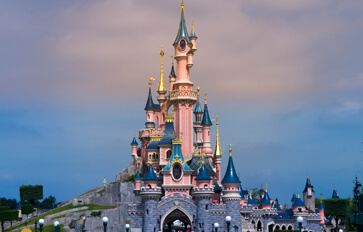 Disneyland Paris
Earlier known as Euro Disney Resort, Disneyland Paris is a popular amusement park in Chessy.
Car rental FAQs for France
What is the age for driving a car rental in France?

21 to 25 years is the minimum age for driving a car rental in France, though, it varies according to the rental agency.
You should have a credit card in your name and have held a driving license for at least one year for renting a car in France.
People under the age of 25 might have to pay a surcharge for renting a car in France.

Is an international driving license is needed to drive in France?

Tourists staying in France for less than 90 days should have either a US or an EU license while an international driver's permit is recommended for driving a rental car.

What side do they drive on in France?

France drives on the right-hand side of the road.