Car Rental France Corsica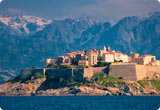 Book a car rental for France Corsica online with us and experience its Worldly settings. VIP Cars provides you with a safe, SSL-secured interface to acquire affordable car hire services well in advance.

Corsica is a French island located on the Mediterranean Sea. Its splendid scenic settings are main tourist attraction here, thus, making it one of the pearls of the Mediterranean Sea. Mostly visitors come to Corsica during summer months and especially in August. An island surrounded by utmost natural beauty and places to discover, a rental car is probably the best alternatives for the flexibility of exploring this French land.

Corsica has numerous walking trails including GR 20, which is perhaps most challenging and well-known of all the Grande Randonnee trails. Other trails include the 2 Mare e Mare trails, which span the island and the Mare e Monti trails. Corsica has beautiful beaches. Alongside swimming and sunbathing, nearly every beach offers opportunities to snorkel. Once the sun sets, several people stay on or nearby the beach to enjoy gelato.

Exploring Corsica in Rental Car

Vibrant coastal cities, fascinating valleys or breathtakingly beautiful beaches; Corsica is an excellent holiday destination that is worthy of being explored inside-out. On a voyage here, travelers can experience the best of this isle if car rental for Estonia is reserved in advance. Commuting via car is not just comfortable but affordable as well.

Tourism in Corsica- A Reference Guide!

Go Sightseeing on Corsican Land- Plan a trip around the beautiful neighborhoods of Corsica and explore its top attractions, which include Citadel, Pianu di Livia, Iles Lavezzi, Palais Fesch- Musee des Beaux-Arts, Musee A Bandera, Place- St Nicolas amongst other worthy attractions that are worthy of a visit.

Eat & Drink- Even though food in Corsica has French and Italian influence but, you can still find Corsican-styled dishes. You can find the food of your choice at different restaurants with the most common ones being U Libecciu, Le Matahari, Pasquale Paoli, Le 20123, Raugi, La Sassa, Le Grand Café Napoleon, U Fornu, Emile's, Le Sud, and A Siesta.

Celebration Time- Corsican culture can be best experienced at the different events held here year round. These are inclusive of Ajacsio Fete le Preintemps, St Erasme, La Semaine Sainte, Festiventu, Fetes Napoleoniennes, Rencontres Polyphoniques and Calvi Jazz festival to name a few notable events.

Online Car Hire for Corsica

Renting a car for Corsica online via our booking engine makes traveling a hassle-free experience. As we have association with the most trusted suppliers globally and locally so travelers can benefit from our discounts and special seasonal offers. Advance booking is always preferred so that travelers can acquire the most economical services by comparing deals. In such cases, if there is a change of plan then amendment is done free of charge. For booking cancellation 24-hour before pick-up, we do not deduct any cancellation fee. Now book with us and avail big savings!