Car Rental Tahiti Faaa Airport (PPT)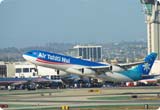 Located around 3 miles southwest of Papeete town centre, Tahiti Faaa Airport is an exclusive public usage aerodrome facility. VIP Cars, a trusted name in car rental brokerage, offers negotiated Tahiti Faaa Airport car rental deals through Alamo and Europcar, its alliance partners for French Polynesia.

Guide to Tahiti Faaa Airport
Owned and operated by SETIL – Aéroports, Tahiti Faaa Airport serves more than 1,169,819 passengers every year. Besides Air Tahiti and Air Tahiti Nui that utilize airport as their commercial hub, Air France, Air New Zealand, Aircalin, Hawaiian Airlines, and LAN Airlines are other air carriers that operate regular flights from Tahiti Faaa International Airport.
Think budget friendly Tahiti Faaa Airport car rental deals! Think VIP Cars!