Car Rental Tbilisi Downtown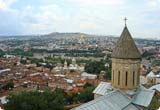 If cultural diversity fascinates you and a perfect blend of different ethnicities are your idea of a balanced society, Tbilisi Downtown awaits your arrival. While restaurants, monuments, hotels, landmarks, and beautiful buildings are part of every downtown, a fusion of Middle East architecture with neo-classical designing or a mix of European architecture with contemporary Ottoman style is something only seen in Tbilisi Downtown. As the downtown is conveniently connected with number of other worth seeing attractions, you can enjoy a splendid drive to one of the bubbliest places of Georgia. You can also pick up a rental car from Tbilisi Airport, which is located just 2 miles away from the city centre.

Avail an unbeatably priced Tbilisi Downtown car rental deal from VIP Cars now!