Car Rental Accra Hotel Novotel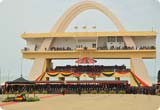 Located just 4 miles away from Accra International Airport, Accra Hotel Novotel is one of the luxurious hotel accommodations of Ghana. Situated very close to the city centre as well as business district, the hotel is within the reach of major commercial establishments and tourist attractions. The hotel's strategic location attracts leisure as well as business travelers from all over the globe. VIP Cars, a car rental broker having presence across 152 countries worldwide, offers cheap and best Accra Hotel Novotel car rental deals through its trusted alliance partners, which are top car rental brands of Africa.

If you have been looking for a discounted Accra Hotel Novotel car rental deal, you are arrived at a right place!