Rent a Car Thessaloniki Airport
---
Book a car rental for pickup at Thessaloniki Airport (aka Salonika Airport, Mikra Airport, and Macedonia Airport) and explore the capital city of Macedonia on your own schedule. The decision to rent a car at Thessaloniki Airport will not only save you time, money, and effort but will also help you to explore Thessaloniki with no compromises. Drive a car directly from the Thessaloniki Airport and experience the utmost comfort and luxury.
Thessaloniki, full of history and culture, is also known for numerous things that allow you to sit back and relax! So, do add the comfort of travel to the mix, and make your trip as convenient as possible with cheap rental cars at Thessaloniki Airport. And if you are thinking of booking your hire vehicle in advance, there is indeed nothing better than that! VIP Cars and its suppliers offer both monthly and daily car rental deals with a wide fleet on offer!! Book today for our special rates & save more!
Extras and inclusions

for car hire Thessaloniki Airport

The car rental rates for Salonika Airport that you see online – or the quote that you have received by email – at our booking engine usually include the following things unless stated otherwise:
Inclusions

The most common inclusions covered by our suppliers for SKG Airport car rental deals are collision damage waiver, theft waiver, and unlimited mileage.

Daily-rate

The daily rate depends upon the rental duration and the car category you are booking. The daily rate neither covers off-hour, late or early pick-up/drop-off fee, nor the cross-border travel fee.

Extras (if selected)

The most common Extras offered by our car rental suppliers for Thessaloniki Airport at the time of the booking are GPS, Baby seats, Additional driver and Wifi Access etc.
Every supplier offers their own set of inclusions and extras, the ones mentioned above are the most common ones – they may not be offered by every supplier.
Parking and traffic fines, one-way rental charges (if not selected), and young driver's surcharges are also not included in our daily rate. For the full breadth of what is included and what is not in your Thessaloniki Airport car rentals, read the rental terms and conditions properly.
Car Rental Categories at Thessaloniki Macedonia Airport (SKG)
While making an online booking for your Salonika Airport (SKG) car rental, you can expect to find the following car categories on offer; this list is for guidance purposes, and can vary from supplier to supplier – as per the availability on the supplier's end – at the time of booking:
Mini Car Rentals

Economy Car Rentals

Compact Car Rentals

Standard Car Rentals

SUV Rentals

Luxury Car Rentals
Our Car Rental Companies at Thessaloniki Airport (SKG)
The following VIP Cars' suppliers provide car rental deals for Macedonia Airport (SKG):
While some of the above-mentioned suppliers offer 'meet and greet services', others have proper rental desks within the airport itself. In both the cases, picking a pre-booked Thessaloniki Airport car rental proves quite easy when reserving with VIPCars!
Thessaloniki Airport car rental - Cross-Border Travel
---
Whether you can take your car rental outside Greece depends upon the supplier from whom you are renting the car. Suppliers like Thrifty, Hertz, and Alamo allow the renters to take their car rentals outside Greece, but even they have their own rules, for instance, Alamo only allows the renter to take their cars to European Union countries.
For more car rental Thessaloniki Airport information, you can contact our booking support.
International One Way Car Rental
from Salonika Airport (SKG)
---
Almost all of our suppliers allow one-way car rentals option within Greece, but since cross-border is not permitted by all of our suppliers, whether you can return your Thessaloniki Airport car rental in another country totally depends upon the supplier you are booking with. And in cases when the international one-way is possible, additional charges would be incurred, and some suppliers even put restrictions on the type of car that you can rent depending on the country you are traveling to.
Have a word with our booking support for more information.
Thessaloniki Airport – Overview
Previously known as Mikra Airport, Thessaloniki International Airport "Macedonia" is located 13 kilometers to the south of the Greek city of Thermi and its well-known White Tower of Thessaloniki.
Third largest in the country after Athens Airport and Heraklion International Airport, Thessaloniki International Airport is the 2nd largest in terms of flights and third-largest in terms of passengers. The main airport for Northern Greece, it serves the city of Thessaloniki and its nearby regions which also includes Chalkidiki – one of the most popular tourist destinations in the Northern region of Greece.
| | |
| --- | --- |
| Address: | Thessaloniki Airport, EO Aerodromiou Thessalonikis, Thessaloniki 551 03, Greece |
| IATA Code: | SKG |
Facilities Available at Thessaloniki Airport
Car Rental Desks at Thessaloniki Airport
The following are VIP Cars' suppliers that have their car rental centers at Thessaloniki Airport: Avis, Thrifty, Sixt, Hertz, and Budget – they all are located on the ground floor in the airport arrival area.
ATMs & Currency Exchange
Thessaloniki Airport has three ATMs run by Alpha Bank, National Bank of Greece and Piraeus Bank; these ATMs are located in the Airport's departure area. SKG Airport also allows the passengers to get their currency exchanged at the airport itself.
The Business Lounge
The Business Lounge is located at the end of the Departure gates and is accessible to passengers who are traveling with Aegean airlines or who have Miles plus Bonus Gold cards & Star Alliance gold card holders. Services: Access to desktops, Wifi, Magazines, and lockers etc.
Hellenic Duty-free Shops at KG Airport
Cosmetics, perfume, tobacco, liquor, toys, electronics, watches, or accessories, Thessaloniki Airport's Hellenic Duty-free brand is home to many well-known brands. It is located on the airside of the Departure area.
A bit About Thessaloniki
Known as the second largest city in Greece, Thessaloniki is also known by names like Salonika and Thessalonica. It is most noted for its striking architecture which grew more profound with the passage of time, and with the change in the rulers. And though Thessaloniki has seen much suburbanization since the 1990s, its old town still bears the impressions of Hellenic, Macedonian, Ottoman, Roman and Byzantine empires!
Places to See in Thessaloniki
Thessaloniki is home to numerous attractions, but in case you are visiting during a layover and have limited time at your hand, here are a few attractions – the best of the lot – that you can easily visit in your Thessaloniki Airport car rental.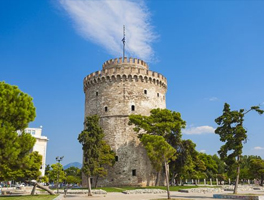 White Tower of Thessaloniki
Approx 15.4 kilometers from SKG Airport via A/D Thessalonikis Neon Moudanion/A25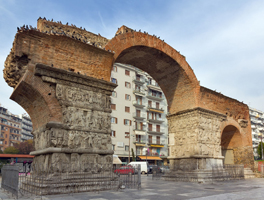 Arch of Galerius and Rotunda
Approx 20 kilometers from SKG Airport via A25 and A/D Thessalonikis Neon Moudanion/A25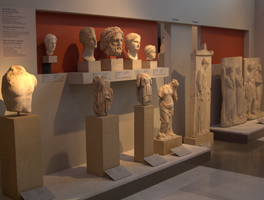 Archaeological Museum of Thessaloniki
Approx 15 kilometers from SKG Airport via A/D Thessalonikis Neon Moudanion/A25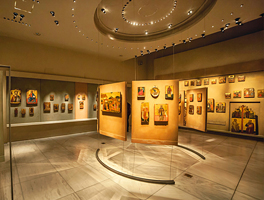 Museum of Byzantine Culture
Approx 18 kilometers from SKG Airport via A25 and A/D Thessalonikis Neon Moudanion/A25
Road Trip from Thessaloniki to Athens
If you have time for a road trip, make the best use of the opportunity, and discover Greece's true beauty by taking a cheap car hire from Thessaloniki to Athens!
Places to visit on the way
Thessaloniki to Mt Olympus
Driving distance:approx 142 km via A1 and EO13
Driving time: Approx 3 hrs
Best Rides at Mount Olympus Park
Hades 360
Zeus
Cyclops
Pegasus
Mt Olympus to Farsala
Driving distance:approx 129.3 km via EO Lamias Larisas/E65/EO3
Driving time: 2 hrs 52 min
Points of Interest in Farsala
Holy Church of the Assumption of the Virgin Mary
Ekklisia Agios Konstantinos
Aigli
Dasos Farsalon
Farsala to Volos
Driving distance:approx 66 km via EO30
Driving time: Approx 1 hr
Points of Interest in Volos
Archaeological Museum of Volos
Brick Masonry Museum N. & S. Tsalapatas
Tsalapatas Museum
Paralia Anavros
Volos to Lamia
Driving distance: Approx 129 km via A/D PAThE/A1
Driving time: Approx 1 hr 30 minutes
Points of Interest in Lamia
Memorial of Leonidas and Sparta 300
700 Thespians Monument
Information center for the battle of the Thermophylae
Archaeological Museum of Lamia
Lamia to Rovies
Driving distance: Approx 100 km via A/D PAThE/A1
Driving time: Approx 2 hr 10 minutes
Points of Interest in Rovies
Saint David Monastery
Moni Agias Irinis Chrisovalantou
Drymona Waterfall
Camping Rovies
Rovies to Athens
Driving distance: Approx 164 km via EO Chalkidas Edipsou and A/D PAThE/A1/E75
Driving time: Approx 2 hr 30 minutes
Points of Interest in Athens
Acropolis of Athens
Acropolis Museum
Parthenon
Plaka
FAQs – Thessaloniki Airport car rental
Do I need an International Driving Permit (IDP) for a car rental at Thessaloniki Airport?

Yes, this is because having an International Driving Permit (IDP) is considered proof that you have a valid driver's license issued by your native country. Hence, it is advised that you should carry your IDP with your domestic driver's license while driving in Greece; also, it is considered a useful document by the car rental suppliers for travelers which have a non-EU driving license.

Can I rent my car for SKG Airport using a Debit Card?

Debit cards are not usually entertained by the suppliers, most of them allow bookings only if the main renter has an active credit card in his/her name. All major credit cards like Visa and Mastercard are accepted; debit cards, pre-paid cards, or third-party credit cards are not accepted. Read the 'Rental Terms' for the specific car rental deal for more information before making a booking.

Can I return my Thessaloniki Airport car rental early?

Yes, you can return your Thessaloniki Airport car hire early, but you might have to pay extra charges for that. Whether there will be an early return fee or not and whether you will be able to get any refunds for the unused days or not, totally depends on the supplier. Read the 'Rental Terms' covered in your rental agreement for more information or you can also contact our customer support for any car rental-related queries.

How can I amend my car rental booking for Thessaloniki Macedonia Airport (SKG)?

Whether you want to extend, modify or cancel your car hire booking for Thessaloniki Airport, you can do so by following any of the below-listed paths:

Visit VIP Cars' 'Manage Booking' page, or

Call us at our booking helpline number

For the online amendment process, you will need your reservation number; therefore in case, you are having some problems, call the supplier or our booking support for assistance.

How will I know that my car rental reservation is successful?

On booking your desired vehicle for Macedonia Airport online, for the desired time, you will receive a confirmation email from us. Usually, the confirmation email is sent within 15 minutes, but sometimes it may take 72 hours. But if you fail to receive the email in the next 72 hrs, you can contact us at our helpline numbers; you can also email us at [email protected].