Car Rental Iran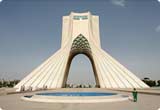 A country located in Western Asia, Iran is home to one of the oldest civilizations in the world. Iran is home to one of the richest artistic traditions in world history and comprises numerous disciplines. Carpet-weaving is one of the most imposingexpressions of Persian culture and art.

Local palace and the mosque are fine example of classical Iranian architecture. Naqsh-e Jahan Square also recognized as shah square is a significant historical site as well as a recognized UNESCO World Heritage Site. Meymand is an oldest village situated close to the Shahr-e-Babak city in Kerman Province. Situated at a driving distance of 2 hours, Dizin is beautiful ski resort which can be easily reached with a rental car.

A car rental service is advisable if you plan to get around cities like Tehran, Yazd, Tabriz, Shiraz and others. Call us now to find about current rental deals, exclusive discounts and the huge fleet of rental cars available.