Car Rental Isfahan Downtown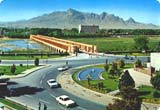 Isfahan is the third largest city in Iran and boasts of many historical and beautiful landmarks within the city. So, whenever you are touring Isfahan downtown one day won't be enough. And in order to make your sightseeing tour convenient, please book a rental. At VIP cars you are guaranteed of an all-inclusive pricing package at low rates.

When is Isfahan Downtown never miss the Khaju Bridge especially during dusk and night time—being well-lit it gives off an eerie glow which perfect for picture taking. If you are fond of religious buildings then see: Shah Mosque, Lonban Mosque, the Zoroastrian fire temple—Atashgah among many others.

Of course, your excursion of Isfahan downtown will not be complete without trying out Iranian Dishes like: yoghurt stew, poolaki and beryooni. You can eat these in any of the marketplace eateries. If you want some shopping, never miss the Shahi Bazaar for an authentic Middle East Bazaar experience.