Car Rental Tehran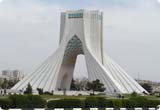 Tehran, the capital of Iran, is the largest urban area in the country. The city is nestled right at the foot of the Alborz range thus the city offers the scenic view of the rugged mountains. Although known for its war-torn history, the city offers a lot of interesting attractions to tourists.

The Azadi and Milad Towers symbolize the city itself thus tourists should include these landmarks in their travel itineraries in Tehran. The Treasury of the National Jewels is also a great place to visit for tourists who appreciate fine jewelry. There are also several museums in the city which include the National Museum of Iran, Golestan Palace and the Saffir Office Machines Museum.

Rent a car at Tehran now!