Car Rental Imam Khomeini International Airport (IKA)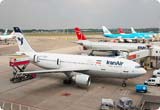 The Imam Khomeini Intl Airport is one of Iran's busiest airport facilities. Located at Ahmadabad, the airport serves a lot of airlines such as UM Airlines, Lufthansa, China Southern Airlines, Bulgarian Air Charter, Ata Airlines and Alitalia to name a few. The Imam Khomeini Intl Airport also serves cargo plans from Dubai and Doha.

The airport boasts of its ISO 9001 certification which indicates that they provide high standard services and employ sound management practices for the convenience of their passengers. On the other hand, the airport is located in near interesting places in Ahmadabad which include Bhadra
Fort and the Swaminarayan Temple. And since the Imam Khomeini Intl Airport is located 30 kilometers from Tehran, the best way for tourists to travel from the airport is via cars from VIPcars.com. At VIP Cars, we provide cars with unlimited mileage and an all-inclusive pricing package.