Car Rental Tehran Downtown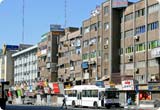 The busiest part of the city of Tehran, Tehran Downtown, is also considered as the entertainment district of the city. Most cinemas are located in the downtown area of Tehran. In fact, the Azadi Cinema – the largest cinema complex in the city – plays foreign films.
There are also different theater houses in Tehran which include the House of Artists and Theater Shahr, places where local artists and celebrities frequent.

On the other hand, the downtown Tehran also houses the Tehran Zoological Garden which is a popular rendezvous for young people and families. Tehran Downtown is also home to infamous landmarks in the country such as the Tehran International Tower and the Azadi Tower.

VIP Cars works with leading rental suppliers, thus you enjoy finest fleet of cars and top inclusions with your booking.