Car Rental Montego Bay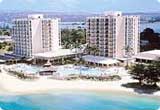 Located about 112 miles northwest of Kingston, Montego Bay is the capital of Jamaica's St. James parish. Besides picturesque surroundings and splendid beaches, the city is known for its duty free shopping facilities. Cradled with a beautiful beach line, Montego Bay is home to number of seaside hotel accommodations and luxurious beach resorts. Meanwhile, there are also other points of tourist interest such as, Historic Building, Rose Hall, Doctor's Cave Beach Club, and Montego Bay Yacht Club. Sir Donald Sangster International Airport, located about 3 miles away from the city centre, is the nearest aerodrome facility to Montego Bay.

Think value for money Montego Bay car rental deals! Think VIP Cars!