Car Rental Kazakhstan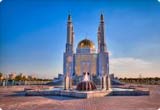 Kazakhstan is a country located in Central Asia with its minor part west of the Ural River in Eastern Europe. Kazakhstan is one of the major landlocked country in the world by land area. Baikonur is renowned cosmodrome location for the takeoff of the 1st manned orbital flight by Yuri Gagarin.

Kazakhstan has a dynamic music culture. As of its cold and windy winter weather conditions, visiting saunas is very popular in Kazakhstan. The leafy commercial and social hub, Amaty has a virtually European feel with its superior hotels, crafty boutiques, and chic cafes. Car rental in Kazakhstan is the low-cost and comfortable option to explore this country at your own terms. In association with major car suppliers, VIP Cars offer a best fleet of cars ranging from economical to luxurious segments. Community ecotourism programmes in some of the most striking areas inspire travelers to stopover with village families, at affordable prices.