Car Rental Laos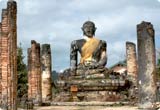 A landlocked country located in Southeast Asia. Laos is widely popular for its slow, peaceful and natural living.
The main attraction of Laos is its undisputed status as the least Westernized, the mellowest and thereby the most reliable of all Indochinese nations. The completely ancient capital of Luang Prabang is a UNESCO World Heritage Site. The Plain of Jars is a megalithic archaeological landscape dating back the Iron Age. Trekking in mountainous Northern Laos is popular. River cruises are a popularmode to see Laotian scenery.

The most convenient means of getting around cities like Vientiane, Huay Xai, Luang Prabang, Pakse and Tha Khaek is a rental car. Having tie-ups with major car suppliers, VIP Cars provide top-notch car rental services in Laos at economical prices.
Contact our friendly customer support team to book your Laos car rental now!