Car Rental Libya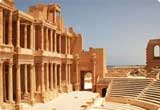 The 17th largest country in the world, Libya shares land borders with Tunisia, Algeria, Chad, Niger, Sudan and Egypt, and also has a coastline with the Mediterranean Sea.
Ancient Libya was inhabited from as early as 8000 BC. Various civilisations lived in the lands that are part of modern Libya, and the country is home to the oldest mosque in the Sahara region. The majority of Libya is covered by the dry and dusty Libyan Desert. Underneath most of Libya is a vast expanse of water holding rocks; the water in these rocks was found to pre-date the last ice ages. Ancient Granite Mountains are found towards the south of the country.

A car rental from VIP Cars means you can plan your rental online in advance, while enjoying professional rental services of top brands.