Car Rental Madagascar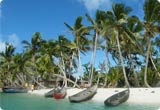 Madagascar is a country that inhabits a major island of the similar name situated in the Indian Ocean, off the eastern coast of Africa. 4th biggest island in the world, Madagascar is a fantasy destination for outdoor and nature lovers as its home to amazing Lemurs, rainforest, baobabs, desert, and beaches.
Tsingy de Bemaraha is a UNESCO World Heritage Site and is Madagascar's major reserve. The attractive raised limestone plateau is graced with chaotic razor-sharp assortment of pinnacles, a frail, and the Tsingy. Avenue of the Baobabs is an extra-ordinaryoutlook of enormous baobab trees. It is one of the most visited places in the Menabe Region. One of the island's notable artistic traditions is its oratory.

Plan your stay in this Island country with a comfort of a car to drive around. Call us and get low priced rental booking for your stay!