Car Hire Subang Jaya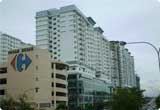 A rental car provides an efficient and comfortable way to get around Selangor's Subang Jaya. It is also an easy means of commuting to Kuala Lumpur, which is 25 kilometres away. A booming and developing modern area, Subang Jaya is a hotbed of commercial activity. Retail therapy is a popular pastime, with many large shopping malls, hypermarkets and shopping centres as well as smaller designer and exclusive outlets.

Amusement parks, bars, restaurants, food halls and pool centres provide a break from the shops, and the Subang Ria Park offers a place of calm and tranquillity amidst the busy city. There is a great range of recreational activities to take part in at the park, including walking, jogging, badminton, cycling, tennis and squash. VIP Cars offers convenient, fast and simple online booking facilities for renting cars in Suban Jaya.