Car Hire Kota Kinabalu International Airport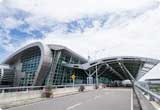 Malaysia's second busiest airport, Kota Kinabalu serves the western part of Sabah in Malaysian Borneo. Flights operate between Kota Kinabalu International Airport and Sandakan, also in Sabah, as well as destinations across peninsular Malaysia. International destinations include cities across China, Taiwan, The Philippines, Indonesia, Brunei, Japan, South Korea, Singapore and Hong Kong.

Facilities include duty free shops, regular shops, restaurants, cafes, bars, a prayer room and beautifully designed waiting areas. When flying into Kota Kinabalu International Airport, many travellers prefer to rent a car. We give you cheapest rentals through some of the biggest brand sin the county. Book now!