Car Hire Le Lamentin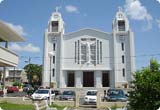 Twinned with Kumasi in Ghana, Le Lamantin is a town on the island of Martinique and is the second largest commune on this Caribbean island. It is situated in the centre of Martinique and it is where the Martinique Aime Cesaire International Airport is found. Opened in Le Lamentin in 1950, the airport was renamed in 2007 after politician and author Aime Cesaire. Le Lamentin is therefore often the first town that people see in Martinique if they fly into the country.

VIP Cars can provide rental cars from both the town of Le Lamentin and the airport. VIP Cars have a convenient and simple online booking process, meaning it is easy to arrange your car in advance for arrival at Le Lamentin. Your own rental car makes exploring this idyllic island easy. Take in the highlights with the leisure to spend as little or as long at each destination as you wish.