Car Rental Pointe Du Bout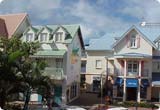 Pointe Du Bout is a touristic part of Martinique. With everything that one wants from a summer holiday and more, it is popular with locals and foreigners alike. White sandy beaches, clear waters perfect for swimming and water sports, mountain backdrops, hotels, shopping, a vibrant nightlife, restaurants galore and a casino create a very pleasing town.

Many hotels have their own private lidos, arranged like intimate lagoons, where one can spend their days with a good book, or a cocktail or two. A pretty marina provides great panoramic views over to the bustling area of Fort De France, which is only a short ferry ride away. Services run into the evening between Fort De France and Pointe Du Bout. A true luxury paradise, the area can be explored by car. VIP Cars offers a great range of pick up points within the Pointe Du Bout area.