Car Rental Sinamangal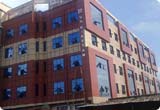 Located just 3 miles away from Durbar Marg, Sinamangal is an important car rental pick-up and drop-off location. With VIP Cars letting you choose a rental car right from the comfort of your home, much before your arrival, you can get a vehicle of your choice to explore the Nepalese capital. You can also opt for number of additional features such as, GPS system, four wheel drive, and traction control, to your existing Sinamangal car rental deal. Leveraging its strategic collaboration with Sixt, the reputed car rental supplier, VIP Cars is better positioned to offer affordable commuting solutions.

Grab an exclusive Sinamangal car rental deal from VIP Cars now!