Car Rental Noumea Downtown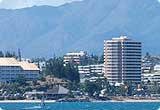 Home to the University of New Caledonia, Noumea Downtown is one of the liveliest spot of the city. Presence of large number of student groups, complemented by restaurants, nightclubs, and discotheques, the city's downtown is worth to be discovered in a rental car. With VIP Cars, a widely renowned car rental broker, offering an array of low tariff Noumea Downtown car rental deals through top car rental brands of New Caledonia, you are assured of a value for money commuting deals. You can choose a rental car of your choice out of a pool of economy drives, sedans, SUVs, and premium segment luxury cars.

Book a frugal Noumea Downtown car rental deal in three easy steps now!